Are Coleman Tents Good? Read This Before You Buy!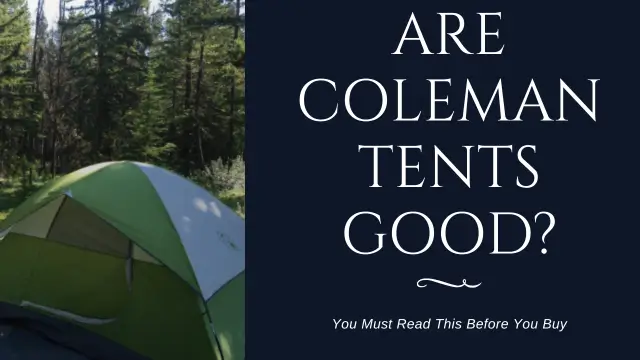 Coleman, a renowned brand in camping gear, has piqued the interest of lots of adventure lovers. As you embark on your camping journey, the question looming in your mind might be, "Are Coleman Tents Good?"
In this guide, we explore Coleman tents, sharing insights from an experienced camper. Wondering about their quality, performance, and value? You're in the right spot. 
Let's uncover the truth about Coleman tents and see if they're the dependable camping companions you're seeking.
Coleman Tent Construction
Let's start with the basics – how are Coleman tents constructed? The backbone of any tent is its poles, and Coleman doesn't disappoint in this department.
The tent poles, often made from lightweight and durable materials, provide the stability you need for a secure shelter. Setting up is a breeze, thanks to straightforward designs and user-friendly instructions.
Rain can be a camper's nemesis, but Coleman tents come prepared. The rainfly, a key component, acts as a shield against the elements, keeping you dry when the weather takes an unexpected turn.
Coleman Tent Fabrics
In the wild, durability is key, and Coleman tents are crafted to last. Users frequently share positive experiences, noting years of use without notable wear and tear.
Waterproofing is another crucial aspect, and Coleman doesn't cut corners here. The tent fabrics are designed to keep you dry even during a downpour.
And when it comes to facing the elements, these tents have proven themselves in bad weather conditions.
Ease of Set Up
Now, let's talk convenience. Setting up camp shouldn't feel like solving a puzzle, and Coleman gets that right.
The tents are designed with user-friendly setups, making the process hassle-free. Even if you're not a seasoned camper, you can have your Coleman tent up and ready in no time.
Are Coleman Tents Good for Backpacking?
For adventurers who love the road less traveled, Coleman tents strike a nice balance between toughness and easy carrying. While not the lightest, they stand up well for backpacking.
Consider weight and packing ease—Coleman tents are reliable for your backpacking adventures.
Typical Coleman Features
Why choose Coleman tents? Well, there's the E-ports, offering modern electrical access for staying connected outdoors. Ample sleeping space suits different group sizes, and smartly placed storage pockets keep your essentials organized and handy.
Stay tuned for more on features, user experiences, and the burning question: Are Coleman tents made in the USA? We'll also cover mixed user reviews, brand comparisons, and offer practical tips for choosing your ideal Coleman tent.
Mixed User Experiences
Now, let's dive into the real talk – what do campers really think about Coleman tents? User experiences are, as expected, a mixed bag.
While many sing praises for the durability and ease of use, there's a recurring topic – zipper issues. Some campers report instances where zippers get stuck or malfunction after prolonged use.
Here's a quick rundown of the pros and cons:
Pros:
Durability: Coleman tents have a reputation for standing the test of time.
Affordability: They are a bang for your buck, providing good value for money.
User-Friendly: Setting up and using Coleman tents is a straightforward process.
Cons:
Comparisons with Other Brands
Now, let's put Coleman tents side by side with some other big names in the camping tent game – Marmot, Kelty, REI and Eureka!.
| Brand | Durability | Price Range | Zipper Issues |
| --- | --- | --- | --- |
| Coleman | High | Affordable | Some reported |
| Marmot | High | Mid to High | Rare |
| Kelty | Mid to High | Mid-Range | Minimal |
| REI | High | High | Rare |
| Eureka! | Mid to High | Mid-Range | Occasional |
Read more about: Are Eureka Tents Good? You Must Read This Before You Buy
where are coleman tents made?
Coleman tents are manufactured in three key facilities located in Wichita, Kansas, and Texas, reaffirming the brand's commitment to producing outdoor gear domestically.
Currently, Coleman is under the ownership of Newell Brands, a corporation that also manages other outdoor brands such as Campingaz, Marmot, and Contigo. Newell Brands acquired an 82% stake in Coleman in 1998 through Sunbeam Corporation.
6 Best Coleman Tents For Camping Of 2023
| Tent Model | Key Features |
| --- | --- |
| Coleman Sun Dome Camping Tent | Easy setup, various sizes, electrical access, mesh roof for ventilation. |
| Screen Room Coleman Dome Tent | Budget-friendly, room for eight, welded seams, rainfly included. |
| Coleman Dome Tent | Compact, quick setup, WeatherTech system, darkroom technology. |
| Coleman Cabin Tent with Instant Setup | Compact for four, sturdy construction, vented rainfly. |
| Coleman WeatherMaster 10 Person Outdoor Tent | Accommodates 10, year-round use, easy setup. |
| Coleman Pop-Up Camping Tent | Well-ventilated for two, water repellent, quick assembly. |
does coleman make good tents? Final Thoughts
Yes, Coleman make durable and affordable tents which make them a solid choice for many campers.
The zipper issue is a drawback for some, but it doesn't overshadow the overall positive aspects.
Recommendations:
Occasional Campers: If you're a weekend warrior or a casual camper, a Coleman tent is likely a perfect fit.
Budget-conscious Campers: For those watching their wallet without compromising on quality, Coleman is a go-to brand.
Additional Tips and Resources
Choose Based on Use: If you're a casual camper or embarking on occasional trips, a Coleman tent is likely all you need. For frequent backpackers, you might want to explore lighter options.
Read User Reviews: Delve into user reviews to get real insights into the specific model you're eyeing. This can offer a more nuanced understanding of potential pros and cons.
Check for Deals: Keep an eye out for sales and deals. Coleman tents often offer excellent value, and catching a discount could sweeten the deal.
Explore Alternatives: While Coleman is reliable, alternatives like Marmot, Kelty, or REI can help you decide based on your preferences.
Connect with the Camping Community: Engage with fellow campers online or in-person. The camping community often shares valuable insights and recommendations.
Remember, the best tent is the one that suits your needs and makes your camping trips memorable. Happy camping!
Share Your Thoughts!
Have you had experiences with Coleman tents? Whether it's a praise or a concern, share your thoughts in the comments below.
Your firsthand experiences can help us decide if Coleman is a good tent brand.