Hammock Camping without Trees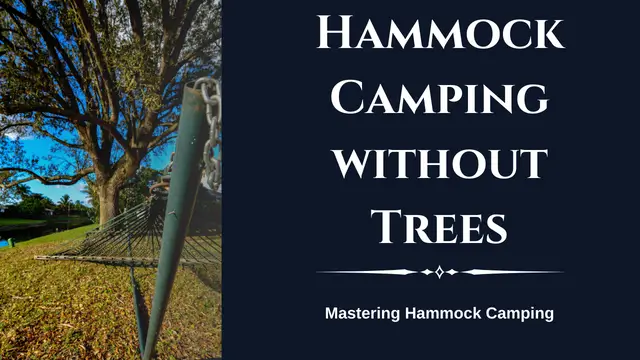 Did you know that hammock camping without trees is possible and even enjoyable? You don't have to miss out on the comfort and convenience of sleeping in a hammock just because you can't find any trees to hang from.
There are many ways to set up your hammock without trees, setting up hammock stands, poles, posts, rocks, cars, buildings, or even hammock structures. In this article, I will show you how to do it.
As a hammock camper, I enjoy exploring different places and environments. I have learned a lot from my years of experience and other experts. I have also researched the best tips and tricks for hammock camping without trees on various forums and websites.
In the following lines, I'll give you the creative ways to hang a hammock in different situations. You will find some useful information and advice in this article. I will also share with you some of the gear and accessories you will need.
By the end of this guide, you will be able to enjoy hammock camping without trees with confidence and ease. Let's get started!
1. Hammock Stand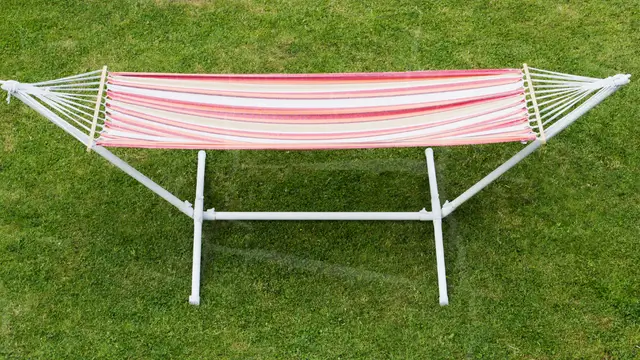 A hammock stand is the most common and best choice to set up your hammock without trees.
Whether for a yard or a 3-season porch with no wall-mounting options, a portable stand provides flexibility for hanging anywhere, offering a comfortable solution for hammock enjoyment.
Hammock stands come in a variety of shapes and sizes; they provide flexibility for hanging anywhere, so you can find one that is perfect for your needs.
When is a Hammock Stand the Best Choice?
When using a hammock stand, several crucial considerations ensure a safe and enjoyable experience.
First, determine the hanging space required, planning for 18-24 inches more than the total length of your hammock.
Choose a stand that complements your decor and fits the designated area, whether it's your yard or a porch.
Additionally, prioritize ease of assembly and disassembly for convenience and portability.
Material quality is vital for durability, especially if the stand will be used outdoors.
To avoid stand off-balance and risk hurting yourself, you will need to find level ground in order to set up your hammock stand. Some, not all, hammock stands have a long continuous base.
Finally, review user recommendations and reviews to gauge the practicality and sturdiness of the stand based on real experiences.
Read more: Hammock Camping Without A Bug Net
2. Two Sturdy Objects
If you don't have a hammock stand, you can use two sturdy objects to hang your hammock. This could be two rocks, two cars, or even two buildings. Just be sure that the objects are strong enough to support your weight.
Use two cars Car or Trucks. Park the cars facing each other and open the trunk doors. Tie a rope to each trunk door and then hang your hammock from the ropes.
Use two rocks. Find two large rocks that are close together. Tie a rope around each rock and then hang your hammock from the ropes.
Use a fence post. If you are camping near a fence, you can hang your hammock from a fence post.
Use a porch post. If you are camping on a porch, you can hang your hammock from a porch post.
Just be sure to use a rope that is long enough to reach the ground so that you can easily get in and out of your hammock in case of using a fence post or a porch post.
Read more: How To Stay Warm When Hammock Camping Without Underquilt
3. Trekking Poles (or Limbs)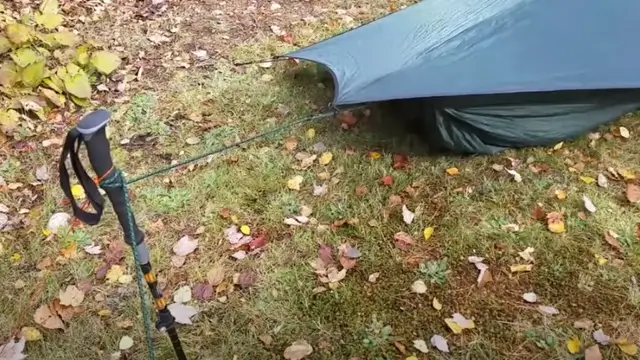 Using trekking poles (or limbs) is a creative hammock hanging skill to set up their shelter in places where trees are scarce or unavailable.
This method can also provide more privacy and protection from the elements, as the hammock can be enclosed like a tent.
Materials Needed
To hang a hammock using trekking poles (or limbs), you will need the following materials:
Hammock (e.g., Hennessy Hammock Jungle Expedition)
Trekking poles (or sturdy limbs)
Pegs (or makeshift pegs from shrubbery)
Two pieces of cordage (about 3-4 feet each)
Tree straps (for versatility)
How to Hang a Hammock Using Trekking Poles?
The procedure for hanging a hammock using trekking poles (or limbs) is as follows:
Lay out your hammock on the ground, identifying where the holes for the pegs will go.
Use tree straps or pegs to secure the hammock to the ground.
Set up trekking poles at approximately waist height, ensuring they are parallel and about 3 feet apart.
Attach the ridgeline of the hammock to the trekking poles using cordage, forming a triangular structure.
Maintain equal tension on all sides for stability, imagining the setup as slices of a pie.
Peg down each corner of the hammock, ensuring it forms a tub-like structure, keeping the bottom off the ground.
Use adjustable hitches like the taut line hitch or Siberian hitch to secure the cordage to the pegs.
Adjust and tighten all elements to achieve a stable and level setup.
Make sure the hammock is elevated off the ground but low enough to prevent rain from entering.
Secure the ridgeline to the trekking poles using a reliable hitch like a clove hitch.
Test the setup for stability and adjust as needed.
Enjoy your hammock camping experience with this makeshift tent-like setup.
Tips for Hammock Camping Without Trees
Choose a level spot: Your hammock should be hung in a level spot so that you are comfortable when you lie down.
Use sturdy anchors: Make sure that the objects you anchor your hammock stand or suspension system are strong and secure enough to support your weight.
Set up your hammock properly: Be sure to follow the manufacturer's instructions for setting up your hammock stand, suspension system, or hammock sling.
Use a tarp or rain fly: A tarp or rain fly will protect you from the elements, such as rain, wind, and sun.
Use a bug net: A bug net will keep mosquitoes and other biting insects out of your hammock.
Be careful of wind: If the wind is too strong, it may be difficult to set up your hammock or it may even blow you out of your hammock.
Recommended Reading: Hammock Camping Mistakes To Avoid
Conclusion
Hammock camping is a great way to enjoy the outdoors and get a good night's sleep, even if you don't have access to trees. By following the ways and tips in this article, you can easily set up your hammock and enjoy a comfortable night's sleep.
I hope you found this guide helpful and informative. If you have any questions or comments, please feel free to share them below. I would love to hear from you and learn about your experience with hammock camping without trees. Thank you for reading and happy hammock camping!