How to Pack for Winter Camping?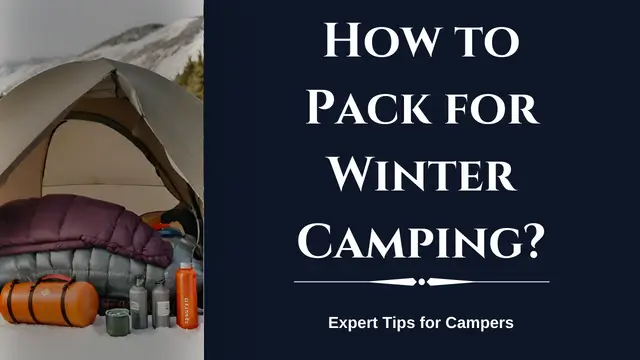 Welcome to the ultimate guide for gearing up for a winter camping expedition.
As an experienced camper who has gone winter camping for the last 12 years, I've crafted this checklist to ensure you're well-prepared for the challenges and delights of cold-weather camping.
I'm Jaden, and I've penned this guide to share practical insights and technical know-how on how to pack smartly for winter camping.
What should You Bring for Winter Camping?
#1 Clothing Essentials
Winter camping demands layers. Here's your checklist:
Insulated jacket with a waterproof shell
Moisture-wicking base layers
Insulated gloves and waterproof mittens
Thermal socks and waterproof, insulated boots
Balaclava and a warm hat
Recommended Reading: How To Dress For Winter Camping?
#2 Shelter and Sleep System
A snug shelter is non-negotiable. Ensure you have:
Four-season tent with a snow skirt
Cold-rated sleeping bag (consider the sub-zero temperature range)
Insulated sleeping pad for ground insulation. Read about how to increase the R-value of your sleeping pad.
Tent stakes and guylines for stability in windy conditions
Read also: How Much Warmer Is A 3-Season Tent In Winter?
#3 Camp Cooking Essentials
Warm meals are a morale booster. Don't forget:
Portable stove with a cold-weather fuel
Insulated cookware for efficient cooking
Thermos for keeping beverages hot
Lightweight, high-calorie foods for energy
Read also: Cook While Camping: Essential Gear, Techniques And Recipes
In winter, safety is paramount. Pack these essentials:
Map and compass (and the skills to use them)
Headlamp with extra batteries
Multi-tool and a first aid kit
Emergency shelter (bivy or space blanket)
Recommended reading: Essential Solo Winter Camping Tips
#5 Technical Outdoor Gear
Equip yourself with gear designed for winter conditions:
Snowshoes or crampons, depending on terrain
Ice axe for icy slopes
Avalanche safety gear if venturing into avalanche-prone areas
Winter Expedition Packing Tips
Pack smart for your winter expedition with these tips:
Choose lightweight, multipurpose gear.
Make a packing list and categorize items by use.
Pack frequently used items within easy reach.
Prepare for unpredictable weather by organizing gear accordingly.
Use compression sacks to reduce the volume of your clothing and sleeping bag.
Distribute weight evenly in your backpack for balance and stability.
Invest in quality waterproof containers for essentials.
Pack for quick camp setup by organizing gear efficiently.
Familiarize yourself with your backpack's compartments and pockets.
Use the roll technique when packing clothes to minimize wrinkles and save space.
FAQs
1. What not to wear when camping in the winter?
Avoid cotton, sandals, shorts, jeans, and khakis when camping in the winter.
2. Can you stay warm in a tent in winter?
Yes, you can stay warm in a tent in winter, but you need to take the right precautions. Choose a good quality tent that is rated for cold weather. Dress in layers and insulate your sleeping bag. You may also want to use a heater, but be careful not to overheat your tent.
3. Do you need a sleeping pad for winter camping?
Yes, a sleeping pad is essential for winter camping to insulate you from the cold ground and snow. It will also provide cushioning and support, making it more comfortable to sleep on.
4. How warm should a sleeping bag be for winter camping?
A winter sleeping bag should be rated at least 10°F (6°C) lower than the coldest temperature you expect to encounter. This will ensure that you are warm and comfortable even in the coldest conditions.
Conclusion
Packed this checklist, you're on your way to conquering winter's challenges. Remember, preparation is the key to a successful winter camping trip.
As you embark on your snowy adventure, may your gear be reliable, your spirits high, and your connection with nature profound. Happy winter camping!
Related Articles: