How Waterproof Are Coleman Tents?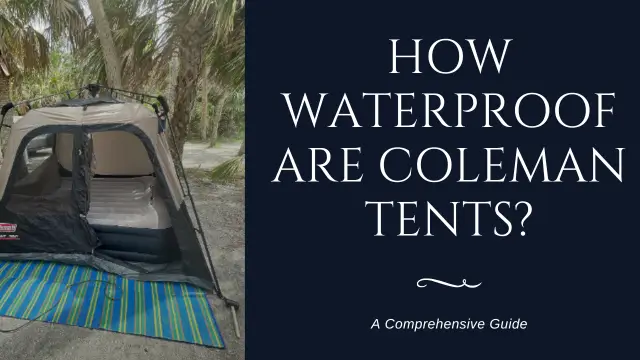 Many campers wonder, "How waterproof are Coleman tents?" This is a valid concern, especially when you want to enjoy the great outdoors without worrying about getting soaked.
As a seasoned camper, I know the importance of having a reliable tent that can withstand the elements. One of the most important factors to consider when choosing a tent is its waterproofness.
In this article, we'll explore the waterproof capabilities of Coleman tents and how to improve them.
Are All Coleman Tents Waterproof?
From my extensive camping experience, Coleman tents are generally waterproof, but their waterproofing performance remains a major concern, especially when camping in heavy rain.
Let's delve into the specifics, starting with the essential components that contribute to the waterproof prowess of these tents.
Key Waterproofing Features in Coleman Tents
Coleman tents are equipped with several key features that contribute to their waterproof prowess. These include:
Tub floors: Tub floors create a barrier around the base of the tent, preventing water from seeping in.
Corner welds: Corner welds create strong anchors that keep the tent intact, even in heavy rain.
Inverted seams: Inverted seams are strategically placed to redirect water away from the interior of the tent.
Waterproofing Issues with Coleman Tents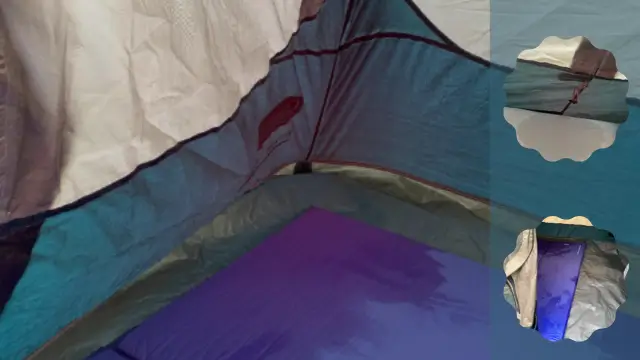 Significant leakage during even mild rain, with water penetrating seams that are supposed to be welded
Water accumulation inside the tent due to condensation or poor design, resulting in wet ground sheets and walls
Difficulties with zippers on the door, compromising the overall weatherproofing of the tent
May not be suitable for heavy rain
Waterproof Performance in Specific Coleman Tent Models
Now, let's dive into specific Coleman tent models and their waterproof prowess.
1. Are Coleman Instant Tents Waterproof?
Water-resistant, not waterproof. Rainfly covers only the top of the tent, so water may run over the tent body and seep in. Inverted seam of the bathtub flooring can also be a vulnerable point for leaks.
2. Are Coleman Pop Up Tents Waterproof?
Not as waterproof as other Coleman models. Rainfly is small and there is no bathtub flooring. Water can penetrate, especially around the doors.
3. Is the Coleman Sundome Tent Waterproof?
More water-resistant than other Coleman tents. Rainfly covers a significant portion of the tent body. Tub floor and patented WeatherTec system help it withstand heavy rain for up to 35 minutes and light to moderate rain for a few hours.
Coated polyester fabric adds an extra layer of defense. However, there may be some vulnerability, particularly on the front and back walls where the rainfly is slightly shorter.
Coleman tents are water-resistant, but not fully waterproof. The Sundome Tent is the most water-resistant Coleman tent, but it is still important to be aware of its limitations in heavy rain.
Read more about: Are Coleman Tents Good? Read This Before You Buy!
What is the Waterproof Rating of a Coleman Tent?
Coleman tents are designed to handle a range of rain conditions, from light drizzles to heavier downpours. However, it's important to note that the specific waterproof rating may vary by model.
Coleman doesn't always provide a specific hydrostatic head rating for their tents, but they do say that their minimum hydrostatic head rating is 450mm[1]. So! Let's talk about the general capacity.
Rainfall Endurance:

Most Coleman tents can withstand moderate to heavy rain.
The tub floor and welded corners are designed to handle water accumulation.

Limits and Considerations:

While Coleman tents offer reliable protection, extreme weather conditions may pose challenges.
Regular maintenance, like seam sealing, can enhance longevity and performance.
Maintenance Tips: How to Waterproof Your Coleman Tent
You can elevate the waterproofing of your Coleman tent through various methods, ensuring a more resilient shelter for your camping adventures.
Waterproofing Spray:
The most effective and convenient method is to invest in a waterproofing spray explicitly designed for your tent material.
Silicon-Based Waterproofing Gel:
An alternative method involves using a silicon-based waterproofing gel.
DIY Waterproofing Solution:
For a more hands-on approach, you can create your own waterproofing solution using household items. Here's a simple DIY mixture:
Mix one part bleach with 10 parts water.
Apply the solution using a sponge or spray bottle, focusing on areas that need waterproofing.
Before treating the entire tent, test the solution on a small, inconspicuous area to ensure it doesn't damage the fabric.
Read our full guide to waterproofing a canvas tent.
Longevity of Waterproofing
With proper care and maintenance, Coleman tents can stay reliably waterproof for about 1 to 2 years.
Regularly check and refresh the seam sealant and waterproofing spray at least once per year to ensure that your tent remains a reliable shelter in the rain.
Consideration for Tent Selection
Coleman tents are good for fair-weather camping, but they may not be the best choice for rainy weather. Here are some tips for choosing a tent:
Consider the climate and weather conditions of your planned destination.
Coleman tents are affordable and accessible, but they may not be as waterproof as other tents.
Weigh the pros and cons of Coleman tents before you buy one.
Conclusion
In the world of camping, a dry tent is a happy tent, and Coleman tents understand this mantra well.
As we wrap up our exploration into the waterproof universe of Coleman tents, it's clear these outdoor companions are built to keep you dry in the midst of nature's showers.
Key Takeaways
Tub Floors and Inverted Seams: Coleman's attention to detail with tub floors and inverted seams adds an extra layer of defense against rain.
WeatherTec Technology: The WeatherTec system, present in models like Instant Tents, Pop-Up Tents, and Sundome Tents, showcases Coleman's commitment to keeping you dry during unexpected rain showers.
Rainfall Endurance: Coleman tents, across models, can handle the light rain but not for the heavy rain.
Maintenance Matters: Regularly applying seam sealant and waterproofing spray ensures your Coleman tent remains a reliable shelter season after season.
Have you used a Coleman tent in the rain? What was your experience? Share your thoughts, questions, or tips in the comments below.