Mobihome 6-Person Tent Family Camping Quick Setup Review
Vacations with family are exciting, but finding a perfect camping tent can be overwhelming. Enter Mobihome 6-Person Tent Family Camping Quick Setup.
Crafted for convenience, this tent is an extended dome type semi-instant lightweight single room tent that stands out for its patented design, swift setup, and budget-friendly price.
This review offers an in-depth analysis of the tent's features, its ease of use, and how it compares with other market contenders.
Tent Structure: What is the Mobihome 6-Person Tent Like?
The Mobihome 6-Person Tent is an extended dome type, offering a semi-instant setup. It features a central dome with a pre-attached frame for ease of assembly, while side poles need to be added manually.
With a single-room structure, it stands at a peak height of 55.12 inches (140 cm) and includes three windows and a door for ventilation and visibility. This design makes it a practical choice for family camping or couple getaways.
A Closer Look at Features and Benefits of the Mobihome 6-Person Tent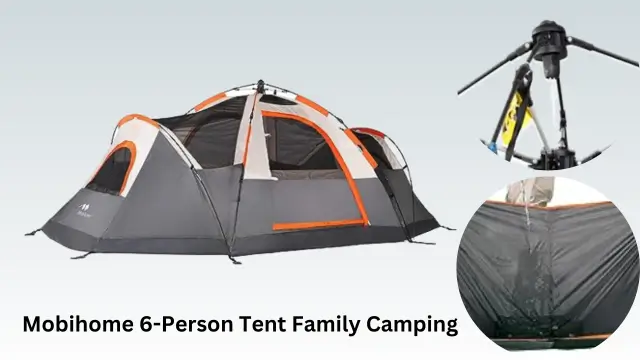 Semi-Instant Setup: Speed and Simplicity Combined
The Mobihome 6-Person Tent boasts a semi-instant setup mechanism, thanks to its pre-attached frame. This unique design allows the tent to rise in one fluid movement, drastically reducing setup time.
Unbeatable Price with Amazon's Seal of Approval
Despite its remarkable features, the tent comes at an unbeatable price, making it a viable option for budget-conscious campers.
Further encouraging its purchase, it's an Amazon's Choice product, a distinction given only to highly-rated and well-priced products available for immediate shipping.
Space and Comfort: The Real Test of a Family Tent
Mobihome's tent promises to comfortably house a family of six. However, given the tent's total area of approximately 75 ft², it's more realistically suited for a couple or a family with 1-2 small kids.
Despite this, the tent's design ensures that every inch is utilized, providing a cozy yet spacious camping experience.
Lightweight Yet Sturdy: A Testament to Thoughtful Engineering
Weighing a mere 14.3 lb, the Mobihome 6-Person Tent is exceptionally light. Its packed size (35.43 x 9.06 x 9.06 inches) is such that it wouldn't be a burden to transport, making it ideal for car camping trips. However, it's not designed for backpacking.
A Two-Season Tent: Optimized for Warmer Climates
Given its breathable ceiling mesh, the Mobihome 6-Person Tent is best suited for two seasons – summer, late spring, and early autumn.
Although it's well-ventilated for warm weather, camping in cooler climates might not be as comfortable due to the mesh ceiling that cannot be fully closed.
Material Quality: Balancing Cost and Durability
The tent's frame uses fiberglass poles of varying diameters, ranging from 7.9 mm to 9.5 mm. While fiberglass isn't the most robust material, it's important to note the budget-friendly nature of this tent.
The tent fabric is 68D 190T polyester with a 1500 mm PU coating – a blend of durability and water resistance.
The floor is made from 120 g/m² polyethylene, a fully waterproof material, ensuring a dry interior even in damp conditions.
Comparison: Mobihome 6-Person Tent vs. Coleman Ridgeline 6 & Wenzel Blue Ridge 7
When compared to the Coleman Ridgeline 6 and Wenzel Blue Ridge 7, which are similar in design, the Mobihome 6-Person Tent holds its unique appeal.
It's significantly lighter, more affordable, but also smaller and lower. For those seeking a balance between cost and functionality, the Mobihome tent is worth considering.
User Reviews: Customer Satisfaction and Criticisms
The Mobihome 6-Person Tent has garnered substantial appreciation from customers for its easy setup and manageable weight. However, the tent isn't without its criticisms. The key points raised include:
Fiberglass poles: Some users have expressed concerns about the durability of the fiberglass poles.
Size: It's often pointed out that the tent is too small for six people and can be great for no more than 4 people.
Packed size: The tent is quite long when packed, which some users found inconvenient.
Absence of floor vents: Some users found the tent could benefit from floor vents for enhanced ventilation when all windows are closed.
Concluding Thoughts: Is the Mobihome 6-Person Tent the Right Choice for Your Family?
In conclusion, the Mobihome 6-Person Tent is a product that combines functionality with affordability.
It offers an easy and speedy setup, a comfortable space for a small family or couple, and an impressive resistance to weather elements.
While its capacity claim of six people might be ambitious, its design and price make it a worthy contender for your next family camping trip.
As always, potential buyers should weigh their specific needs against the benefits and limitations of this tent.
A Step Further: Scoring the Mobihome 6-Person Tent
To better guide your decision, we've evaluated the tent based on a standardized set of criteria: area per person, weight, packed size, protection, ease of use, and features.
For more detailed information about the product, customer reviews, and other resources, you can visit the amazon reviews.
Choosing the right tent depends on individual experiences and specific needs. We hope this comprehensive review helps you in making an informed decision.
If you want more options, check in the 5 Best Instant Tents 6 Person.