5 Best Instant Tent 6 Person
We evaluated 5 best instant tents for 6 persons and assessed them based on Setup, Tent type, Capacity, Quality and Durability, Waterproofing, Portability, Unique Features, Suitability, and Comfort.
Throughout this article, we will present our findings to assist you in discovering the ideal 6-person instant tent that meets your needs.
Best Instant Tent 6 Person at a Glance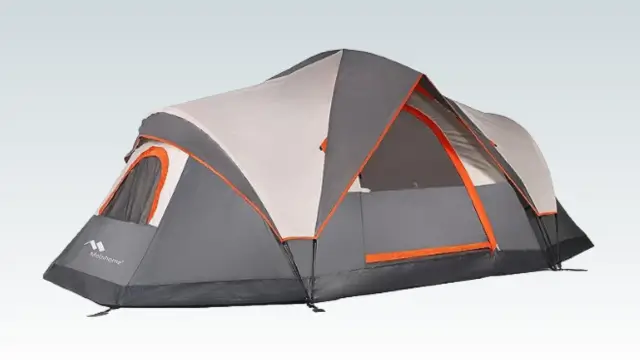 Technical Details
The Mobihome tent is constructed from strong 68D 190T polyester with 1500mm PU – ensuring its capability to handle various seasons and keep you dry.
Ideal for spring, summer, and fall adventures.
The tent comes in a sleek grey color.
It's easy to carry, weighing about 14.3 pounds.
Dimensions: 279.4 x 165.1 x 139.7 cm.
Price: £239.15
Warranty: 1-year warranty
Setting up the Mobihome Family Camping Tent is a breeze. It takes just 60 seconds, so you'll be ready to relax in no time.
You don't need any extra hands – the smart hub system design lets you do it all on your own. Just roll it out, lock the poles in place, and give a gentle pull on the drawstring. Your comfy shelter is ready for your adventure.
Spacious and Comfortable: Enjoy the Outdoors in Style
Inside the tent, you'll find a generous 55 inches of headroom – plenty of space to move around without feeling cramped.
It's made with high-quality 190T polyester that's tough and long-lasting. The waterproof PE tent floor keeps things dry and cozy, even if the ground is damp.
No need to worry about rain – the fully taped rainfly, sealed seams, and tight door/windows seals keep water out.
Smart Design for Families and Groups
This tent is perfect for family getaways. It fits 2 parents and 2-3 children comfortably. Plus, there's a cool feature: two big top mesh windows for stargazing on clear nights.
Whether you're camping with family or friends, you'll have all the space you need for a relaxing and memorable time.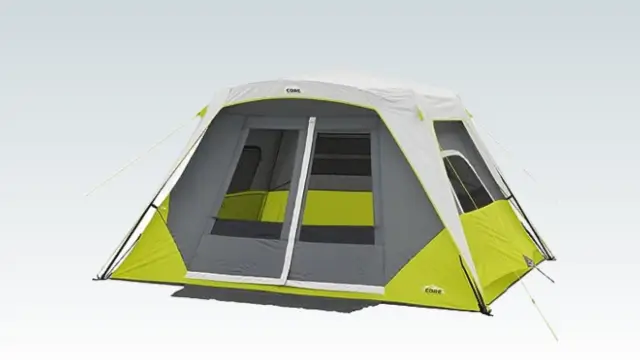 Technical Details
Brand: Core.
Materials: Polyester and alloy steel.
Perfect for camping and hiking during the 3 seasons.
Color: A cool Green/Gray combo.
Measurements: 132″L x 108″W x 72″H.
Warranty: 1-Year Limited Warranty to put your mind at ease.
You arrive at your camping spot, a bit tired from the journey, and all you want is to rest your head. Good news! The Core 6-Person Instant Tent has your back. Setting up camp is a breeze – it practically unfolds itself in just 60 seconds.
That's quicker than making a cup of tea! Plus, it's roomy enough to comfortably sleep 6 people or fit two queen air mattresses, and you won't have to worry about bumping your head with its tall 72″ center height.
Built to Last: Tough and Durable
When Mother Nature throws a bit of a tantrum, you'll be glad you're in the Core tent. Crafted from strong 68D Polyester fabric, this tent is no pushover. Its telescoping steel tent poles provide the backbone needed to stand up against the elements, ensuring your camping home remains steady and reliable.
Stay Dry, Come What May: Waterproof Wonder
No one likes waking up in a soggy sleeping bag. That's where the Core H20 Block Technology comes in – it's like a waterproof shield for your tent.
Rainy days? Bring it on! An adjustable ground vent also keeps the air flowing, so you stay comfortable without getting stuffy.
Pack, Go, Adventure: Compact Portability
When it's time to hit the road again, you won't be struggling with a giant, awkward tent. The Core tent packs down to a neat 8.25″ x 8.25″ x 48″ size and weighs 24.5 lbs.
It even comes with a handy carry bag, so you can easily sling it over your shoulder and march towards your next campsite.
Cool Extras for Your Comfort: Uniquely Awesome
As you step into your home away from home, you'll notice the "T" style door and awning, giving you that stylish yet functional entrance. Hang up your gear and lantern on the built-in gear loft with a lantern hook, and keep things organized with the large wall organizer. Need a breeze? Those large mesh windows and the oversized adjustable vent system have got you covered.
Perfect for Every Crew: Versatility Check
Whether you're a family, a big group, or a solo traveler with tons of gear, this tent's got your name on it. It's spacious, comfy, and can easily accommodate up to 6 adults. No more feeling cramped inside!
Extras for Extra Waterproofing: Rain Fly Ready
Feeling extra cautious about the rain? You can nab an additional rain fly to give your tent even more waterproof superpowers. It's like adding a superhero cape to your camping setup.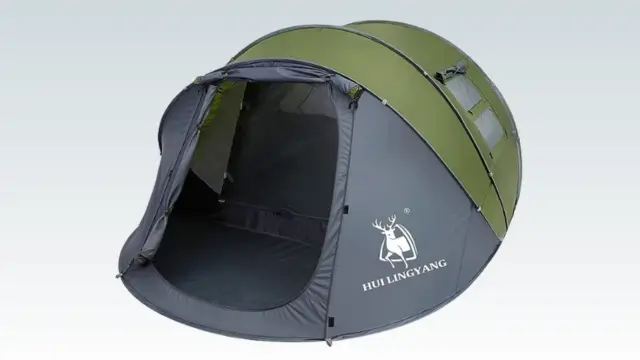 Technical Details
Brand: HUI LINGYANG
Material: Durable Fabric
Recommended Uses: Backpacking, Travelling, Beach, Camping & Hiking
Seasons: Summer, Fall, 4 Season, Spring
Color: Refreshing Green
Item Weight: Easy-to-carry 11.68 Pounds
Product Dimensions: Spacious 12.5' x 8.5' x 53.5'
Price: $149.99
Setting up the HUI LINGYANG 6 Person Easy Pop Up Dome Tent is a breeze – it practically pops up on its own! No need to fuss with complicated poles.
Just unfold it, and the pre-assembled poles do their magic, making it ready in mere seconds.
Inside, you'll find a spacious center height of 53.5 inches, giving you plenty of room to move around comfortably.
Quality and Protection
This tent is designed to keep you dry and cozy. The fabrics are water-resistant, and the seams are heat-sealed to prevent leaks. There's also an integrated vented rainfly that shields you from the weather, making sure rain doesn't spoil your camping fun.
Stay Dry, Come What May
When rain tries to sneak in, the waterproof fabric and taped floor seams stand guard. They work together to keep water out and your camping experience nice and dry.
Easy to Carry
Don't worry about lugging around a heavy tent – the HUI LINGYANG tent is lightweight at just 11.68 pounds. Whether you're trekking to your campsite or heading to a festival, it won't weigh you down.
Cool Breezes and Handy Vestibule
Ventilation is key for a comfortable stay. This tent has you covered with large mesh windows that let in fresh air while keeping bugs out. Plus, there's a vestibule for stashing your gear – no need to clutter up your sleeping space!
Great for Different Adventures
No matter your outdoor plans, this tent is up for the challenge. It's perfect for casual camping trips, hikes, festivals, and all sorts of outdoor activities.
Bonus Rain Fly
You won't need to purchase an extra rainfly. This tent comes with an integrated vented rainfly that adds an extra layer of protection against the elements.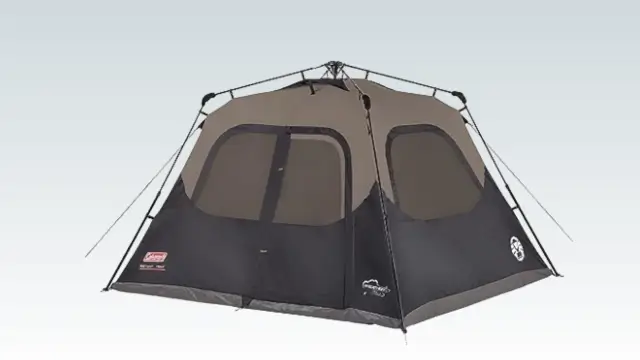 Technical Details
Brand: Coleman
Material: Polyester
Best For: Camping & Hiking
Seasons: Good for Spring, Summer, and Fall
Color: Blackberry
Size: About 2.29 meters long, 1.65 meters wide, and 1.65 meters high
This tent is super quick to set up – we're talking about just one minute! It's like putting together a puzzle with special poles that are already attached. So, you don't need to be a camping expert to figure it out.
Spacious and Protective:
This tent doesn't mention its exact height in the info, but don't worry, it's roomy enough for you to move around comfortably.
Tough and Ready for Weather:
This tent is built to last. It has something called the WeatherTec system, which keeps you dry when it rains. The floor is like a tub, so water can't sneak in.
The corners are welded together to stop water from getting in there, and the seams are flipped to keep water out. Plus, this tent can handle pretty strong winds – up to 35 mph!
Keeps Water Out:
Rain won't be a problem because this tent is designed to stop water from getting in. It's got a special floor and the corners are sealed up tight.
Easy to Carry:
Don't worry about lugging this tent around. It comes with a bag that makes carrying it a breeze. So, you can take it anywhere without breaking a sweat.
Cool Extra Features:
This tent has some neat tricks up its sleeve. There's a big door that lets you move your stuff in and out without any fuss.
It also has an awning over the door that gives you extra protection from the weather and lets fresh air flow in. And guess what? You can even add on another cover for even more protection from the rain.
Fits a Bunch of People:
This tent is made for eight people, so it's great for camping trips or hiking adventures with your pals.
Extra Rain Protection:
You can get even more protection from the rain if you want. There's an extra cover you can add on.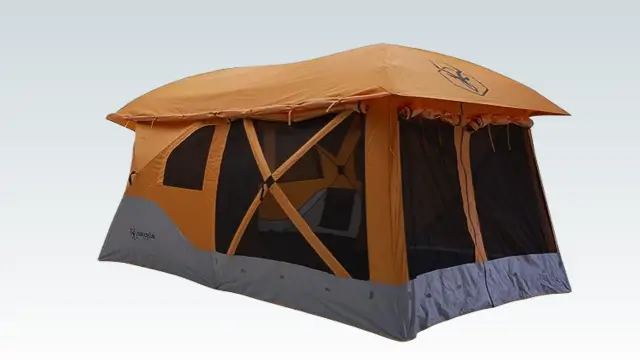 Technical Details
Brand: Gazelle
Material: Oxford
Recommended Uses: Traveling, Backpacking, Festival, Trekking, Camping & Hiking
Seasons: 4 Season
Color: GT450SS 2020 T4 Plus Sunset Orange
Product Dimensions: 78″ x 94″ x 165″
Price: $493.05
Setting up this tent is a breeze – it only takes 90 seconds! No need to struggle with complicated instructions; just unfold and pop it up.
Spacious Interior:
Inside, you'll find room for 4-8 people. It's perfect for group camping trips or a family adventure. The center height isn't mentioned, but the tent's design gives you plenty of space to move around.
Built to Last:
The tent is made from strong Oxford material. This type of material is known for being durable, which means your tent will stand up to different weather conditions and many camping trips.
Stay Dry and Protected:
Rainy weather won't spoil your camping experience. This tent is waterproof and even UV resistant, so you're shielded from the elements.
Easy to Carry:
When it's time to move on, the tent packs up nicely into a portable storage bag. This makes it convenient to transport and store until your next adventure.
Innovative Features:
One of the standout features is the convertible screen room. You can relax in there or transform it into an extra sleeping space using zippered privacy panels. Plus, the removable floor and storage options add to the tent's flexibility.
For Various Occasions:
Whether you're backpacking, trekking, going to a festival, or simply camping and hiking, this tent is versatile and ready for different adventures.
Conclusion
Selecting the best 6-person instant tent requires considering various factors such as setup ease, durability, comfort, and weather protection.
Each of the reviewed tents: (Mobihome, CORE, HUI LINGYANG, Coleman, and Gazelle) brings unique features to the table.
Depending on your camping needs and preferences, you can find the perfect fit that combines convenience, durability, and comfort for your outdoor adventures.