Tips for Camping in California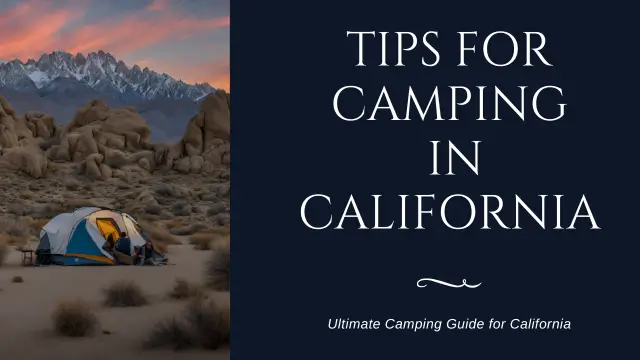 California, a haven for outdoor enthusiasts, offers diverse landscapes ranging from coastal wonders to towering redwoods and picturesque deserts.
Elevate your camping experience in California with these expert tips that delve into safety, regulations, and a deeper understanding of local ecosystems.
1. Choose Your Region Wisely
California's camping options are as diverse as its landscapes. Beyond picturesque views, consider the specific safety and regulatory nuances of each region.
Coastal Camping:
While enjoying oceanfront campsites like San Elijo State Beach, be aware of coastal weather patterns, including potential fog. Familiarize yourself with tide schedules for safe beach exploration.
Northern California Exploration:
In pine-filled forests around Lassen Volcanic National Park, ensure you're equipped for encounters with wildlife.
Rocky Point East in Susanville may offer tranquility, but understanding local fauna and flora is key to a safe experience.
Yosemite and Kings Canyon Magic:
Alabama Hills Recreation Area in Inyo National Forest boasts stunning views, but awareness of altitude-related challenges is crucial.
Owens Gorge Road and Sagehen Meadows provide quieter experiences, emphasizing the importance of Leave No Trace principles.
Southern California Adventures:
Embrace the unique ecosystems of Anza Borrego, Joshua Tree National Park, and the Mojave Desert.
Blair Valley in Anza Borrego showcases panoramic views but be prepared for temperature fluctuations.
Joshua Tree North and South demand water conservation due to desert conditions.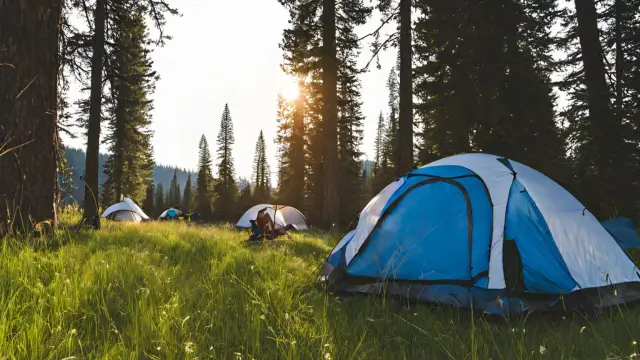 2. Utilize Online Reservation Systems
California's campgrounds witness high demand, especially during peak seasons.
Secure your spot with online reservation systems like ReserveCalifornia, noting specific regulations at each site.
Respect camping duration limits and arrival times to ensure a smooth experience.
3. Embrace Dispersed Camping Responsibly
For a rustic experience on public lands, consider dispersed camping on public lands managed by the Bureau of Land Management (BLM) or in National Forests.
However, be well-versed in Leave No Trace principles. Understanding fire regulations is crucial, especially in fire-prone regions like California.
Safety Guidelines for Dispersed Camping:
Choose established sites to minimize environmental impact.
Pack out all waste, including human waste using proper disposal methods.
Follow fire safety guidelines and use established fire rings when available.
Be aware of local wildlife; store food securely to prevent animal encounters.
4. Explore Free Camping Options
California offers free camping options in certain regions for an authentic back-to-basics adventure.
While many campgrounds charge fees, California also offers free camping options.
Some dispersed camping areas along the coast, BLM land, and certain National Forests allow free camping.
These spots usually have limited facilities, so come prepared for a more early experience.
Check out this Safety Tips for Camping in Unfamiliar Places
5. Understand Camping Costs and Additional Fees
Camping costs in California can vary widely. State parks and campgrounds typically charge fees ranging from $20 to $50 per night for basic tent or RV camping.
However, unique experiences like glamping or cabin rentals can exceed $100 per night. Be sure to check for any additional fees, such as reservation or vehicle entry fees.
Disclaimer: Check the camping details, fees, and rules; they might change. Before your trip, it's smart to confirm the latest info on official park websites or government resources.
6. Mind the Seasons and Timing
Camping in California can be a year-round activity, but the experience varies with the seasons.
Coastal areas are delightful in the summer, while fall offers vibrant foliage in northern regions.
Spring is excellent for wildflower displays, and winter camping in the desert can be surprisingly comfortable.
Read more about the best time to go camping in California
7. Prioritize Safety in Wildlife Interactions
California hosts diverse wildlife. In bear-prone areas, secure food properly. Know the regulations regarding wildlife interactions, and always prioritize safety.
First Aid Measures for Wildlife Encounters:
Bear Encounter: Back away slowly, avoid direct eye contact, and speak in a calm, assertive voice. If attacked, play dead by lying flat on your stomach with your hands clasped behind your neck.
Snakebite: Keep the bitten area still and at or below heart level. Remove tight clothing and jewelry near the bite site. Seek medical attention promptly.
8. Stay Informed About Fire Safety
Given California's susceptibility to wildfires, stay updated on fire regulations. Carry essential fire safety equipment and be prepared to adapt plans based on real-time conditions.
9. Deepen Your Connection with Local Ecosystems
Enhance your camping experience by understanding and respecting local ecosystems. Participate in ranger-led programs, connect with local communities, and delve into the rich natural history of each region.
10. Campground Amenities, Facilities, and Accessibility
Before heading out, research campground amenities and facilities. Some sites offer potable water, restrooms, and even shower facilities.
Accessibility information ensures that your chosen site aligns with your needs.
Check the Hipcamp website, which can provide very helpful information about each campground you want to camp at.
11. Interactive Maps for Enhanced Exploration
For a more user-friendly experience, explore interactive maps for featured sites. Use Google Maps or park-specific maps to plan your route and identify key points of interest.
My Camping Trip at Alabama Hills Recreation Area
I decided to go camping at Alabama Hills Recreation Area in California during the summer. I was excited to experience the stunning scenery and challenge myself to camp in a hot, dry environment.
One of the biggest challenges I faced was the heat. Daytime temperatures regularly exceeded 100 degrees Fahrenheit, and there was little to no vegetation to provide shade. I stayed hydrated by drinking plenty of water and electrolyte drinks, and I sought out shady spots whenever possible.
Another challenge was the wind. The Alabama Hills are notoriously windy, and I had to make sure my tent was really well-staked down before I left my campsite. I also made the mistake of camping further away from the town of Lone Pine, where the cell service is better. As a result, I had to travel into town every day to access the internet and cell service.
Despite the challenges, I had a great time camping at Alabama Hills Recreation Area. The scenery was breathtaking, and I enjoyed hiking, exploring the rock formations, and stargazing. I learned a lot about camping in hot, dry environments, and I'm already planning my next trip.
Camping in California: Final Thoughts
Camping in California is more than just pitching a tent; it's an immersive journey into diverse ecosystems.
By combining breathtaking landscapes with safety, rules, and ecology knowledge for a camping adventure that's not just memorable but also in harmony with the natural wonders of the Golden State.
Pack your gear, follow these expert tips, and embark on a journey to create lasting memories in California's great outdoors. Happy camping!