When is the best time to go camping in the US?
Are you ready to embark on an unforgettable camping adventure? The United States offers a myriad of stunning landscapes, diverse wildlife, and picturesque scenery perfect for any camping enthusiast.
But, when is the ideal time to pitch your tent and experience all that Mother Nature has to offer? Let's dive in and explore the best time to go camping in the US!  
In general, the best time to go camping in the US depends on the region, the season and your preferred camping style, the perfect time may vary.
Related Articles:

What is the Best Time to Go Camping in Oregon?

When is the best time to go camping in Colorado?
Factors to Consider When Choosing the Best Time to Go Camping in the US
When planning a camping trip, choosing the right time can make all the difference in your experience.
There are several factors to consider when determining the best time to go camping in the US, such as weather, crowd levels, and your preferred activities. Check out our topic about: 13 Things to Do When Camping Alone.
Let's dive into these aspects to help you pick the perfect time for your outdoor adventure.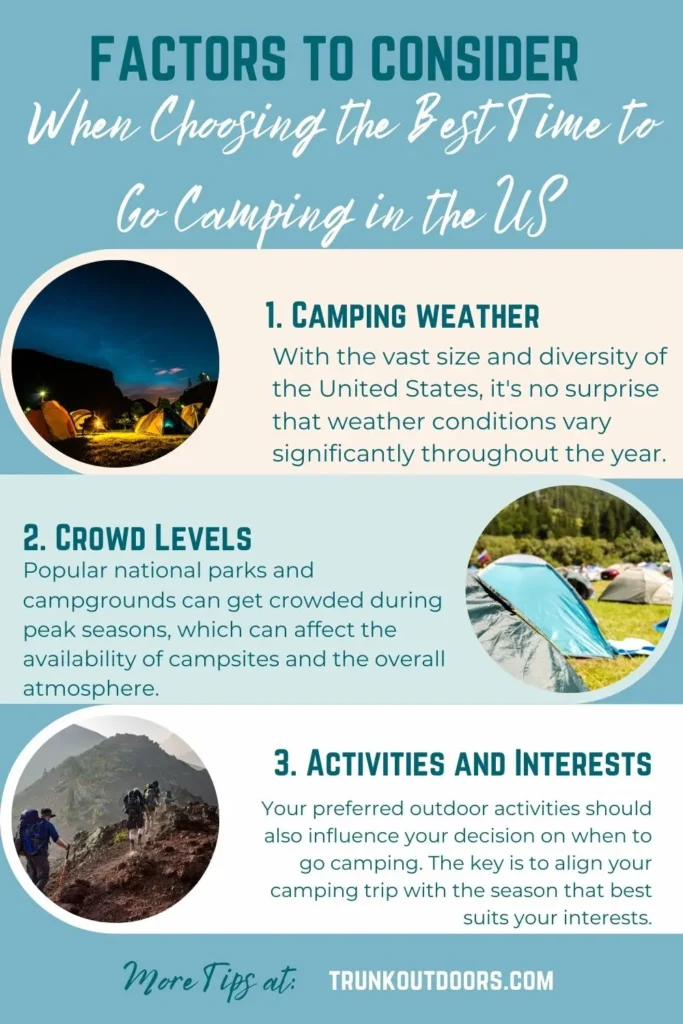 1) Camping Weather  
With the vast size and diversity of the United States, it's no surprise that weather conditions vary significantly throughout the year. To help you find the best time to go camping, let's explore the seasonal climate in different regions of the US. 
Camping is a great way to enjoy the outdoors and experience nature up close. But it's important to remember that nature is always in charge, and we need to respect its power and unpredictability.

Bear Grylls
1. The Northeast 
Known for its beautiful fall foliage, the Northeast experiences cold winters with heavy snowfall and hot, humid summers. Spring and fall offer milder temperatures, making them ideal times for camping in this region. 
2. The Southeast 
The Southeast has a subtropical climate with hot, humid summers and mild winters. While camping can be enjoyed year-round, be prepared for the occasional rain shower, especially during the summer months. 
3. The Midwest 
Featuring a mix of humid continental and humid subtropical climates, the Midwest has hot summers and cold winters. Spring and fall bring more moderate temperatures, providing excellent opportunities for camping adventures. 
4. The Southwest 
The Southwest is characterized by its arid desert climate, resulting in hot summers and cool winters. For the most comfortable camping experience, consider visiting during spring or fall when temperatures are more moderate. 
5. The Pacific Northwest 
The Pacific Northwest region of the US is known for its rainy weather in the winter and warm, dry summers.
Camping is enjoyable throughout the year, but it's best to plan a camping trip during the drier months, which are generally the most popular for outdoor enthusiasts.
6. Alaska and Hawaii 
Alaska's weather can be quite unpredictable, with harsh winters and mild summers. Camping is best enjoyed during the warmer months of May to September. Hawaii, on the other hand, has a tropical climate with warm temperatures year-round, making it an ideal camping destination anytime.
2) Crowd Levels 
Another factor to consider is the number of people you're likely to encounter at your chosen camping destination.
Popular national parks and campgrounds can get crowded during peak seasons, which can affect the availability of campsites and the overall atmosphere.
To avoid the crowds, opt for shoulder seasons (spring and fall) or explore less well-known destinations. 
A) Peak Season camping: Why You Should Try It
There's something magical about camping during peak season in the US. The weather is fantastic, the wildlife is abundant, and fellow campers bring an infectious energy to the great outdoors. 
If you're a beginner camper, you may wonder why you should try camping during this popular time of the year and we're here to convince you. 
Unbeatable Weather Conditions 
During peak season, the weather is often perfect for camping.
You can expect warm, sunny days and cool, comfortable nights – ideal for exploring, hiking, or simply relaxing by the campfire.
Plus, with fewer chances of rain, you'll stay dry and comfortable in your tent or RV. 
Exciting Wildlife Encounters 
Many animals are most active during the peak camping season, providing you with unique opportunities to witness wildlife in their natural habitat.
From spotting deer and elk to observing birds and other small creatures, you'll have plenty of chances to get up close and personal with nature. 
Amazing Camaraderie and Socializing 
When you camp during the peak season, you'll be surrounded by fellow outdoor enthusiasts who share your passion for adventure and exploration.
This creates an incredible sense of camaraderie, making it easy to strike up conversations, share stories, and even make lifelong friends. 
B) Off-Season Camping: Why You Should Try It
Off-season camping might sound intimidating, but there are plenty of reasons to give it a try.
With fewer crowds, a more serene environment, and potential cost savings, experiencing the great outdoors during the off-season can be a unique and memorable adventure.
Let's dive into some of the benefits of off-season camping and why you should consider it. 
Experience Nature's Tranquility 
One of the most significant advantages of off-season camping is the peace and quiet you'll enjoy.
With fewer campers around, you'll have more opportunities to observe wildlife, listen to the sounds of nature, and truly unwind in a serene environment.
Embrace the solitude and immerse yourself in the beauty of the outdoors. 
Save Money on Camping Fees 
Many campgrounds offer discounted rates during the off-season, which means you can save money on your camping adventure.
Additionally, with fewer people vying for spots, you'll have a wider selection of campsites to choose from. It's a win-win situation for both your wallet and your camping experience. 
Reserve America allows you to search for and reserve campsites in state and national parks across the US.
Discover New Challenges and Skills 
Off-season camping can present unique challenges, such as colder weather and unpredictable conditions.
However, these challenges also provide an opportunity to learn new skills and become a more adaptable camper.
By going camping during the off-season, you'll not only build your confidence but also have a greater appreciation for the ever-changing beauty of nature.
3) Activities and Interests 
Your preferred outdoor activities should also influence your decision on when to go camping.
For example, if you're an avid hiker, you may want to avoid the snowy winter months in the mountains.
If you're interested in wildlife watching, research the best times to spot specific species in your chosen location.
The key is to align your camping trip with the season that best suits your interests.
Best camping season in the US
Ah, the great outdoors! Camping is a beloved pastime for many, and for good reason. But when is the best time to go camping in the US? Let's dive into the best camping season and some factors to consider for your next adventure. 
| Season | Pros | Cons |
| --- | --- | --- |
| Spring | Wildflowers, comfortable temperatures, less crowded | Unpredictable weather, some areas still snow-covered |
| Summer | Warm weather, longer daylight hours, ideal for water activities | Crowded, hot in some regions, mosquitoes and bugs |
| Fall | Foliage colors, cooler temperatures, fewer bugs | Shorter daylight hours, cooler nights, some facilities may close |
| Winter | Secluded, unique winter landscapes, fewer bugs | Cold temperatures, limited access, specialized gear required |
Winter: A Wonderland for Adventurous Campers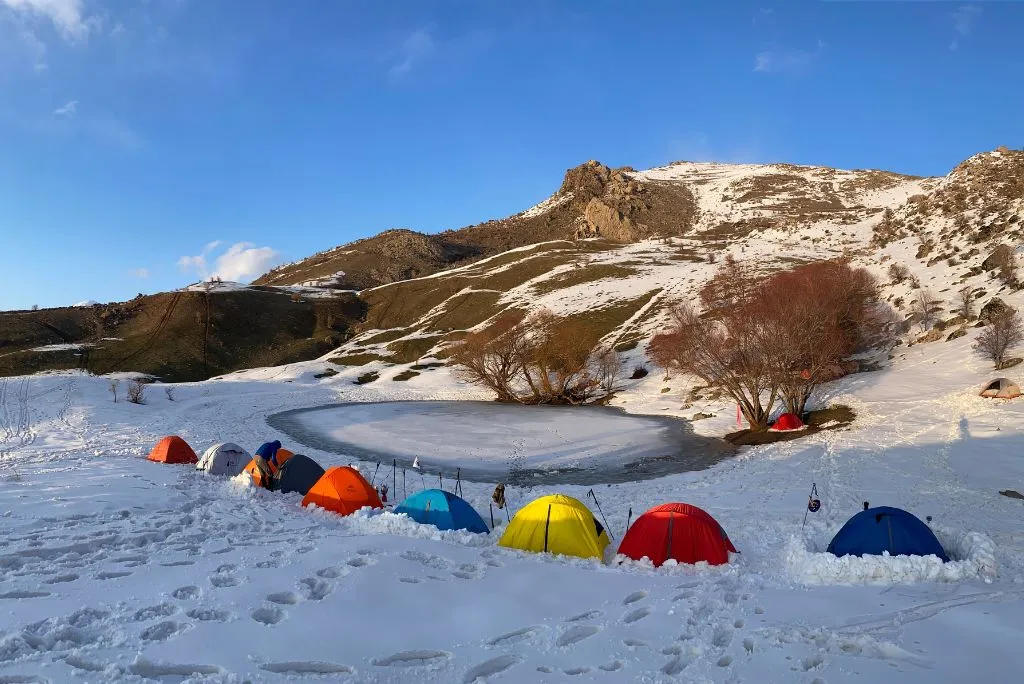 Winter camping is possible in some parts of the US, but it requires special gear and preparation. It might not be for everyone, but it offers a unique experience that's hard to beat.
With the snow-covered landscapes and the crisp, cool air, winter camping can be a magical experience for those willing to brave the cold.
Just make sure you're well-prepared with the right gear, clothing, and a solid plan to stay warm and safe.
Pros: Fewer crowds, serene landscapes, and opportunities for snow sports like skiing and snowshoeing.
Cons: Cold weather, shorter daylight hours, and limited access to some camping areas due to snow and ice.
Best camping spots for winter outdoors in US
Winter camping in the US offers a unique and magical experience, with snow-covered landscapes and crisp, cold air.
While many people may shy away from camping in the colder months, it's truly a breathtaking time to explore the great outdoors. Here are some of the best camping spots for winter enthusiasts in the US: 
Rocky Mountain National Park, Colorado 
This popular park is a winter wonderland perfect for campers seeking pristine snowscapes and solitude.
From snowshoeing to cross-country skiing, there are plenty of activities to keep you busy during your stay. Just make sure to pack plenty of layers and a warm sleeping bag! 
Yosemite National Park, California 
Yosemite National Park is a bucket-list destination for many outdoor enthusiasts, and winter camping here is no exception.
The park is significantly less crowded during the winter months, offering a more peaceful and serene experience.
Explore the park's stunning snow-covered granite cliffs and famous landmarks like Half Dome and El Capitan. 
Acadia National Park, Maine 
Located on the rugged coast of Maine, Acadia National Park offers campers a truly unique winter experience.
With miles of snow-covered trails to explore, you'll find yourself surrounded by breathtaking ocean and mountain views.
Winter camping in Acadia is best suited for experienced campers, as weather conditions can be harsh and unpredictable. 
Spring: A Season of Rebirth and Beauty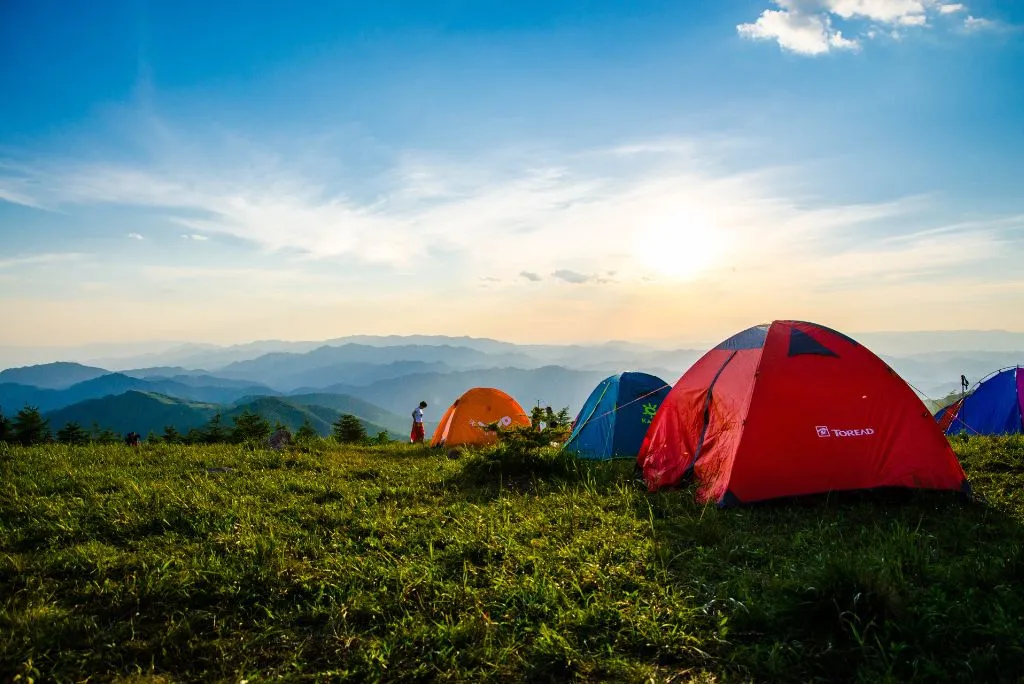 Spring can be a great time to go camping in the US, but it can also be unpredictable with weather conditions.
As the snow melts away and temperatures begin to rise, spring brings a sense of renewal to the great outdoors.
With nature coming back to life and an array of colorful wildflowers blooming, this season offers campers a chance to enjoy the beauty and serenity of the wilderness without the extreme temperatures of summer or winter.
Pros: Mild weather, vibrant scenery, and increased wildlife activity.
Cons: Spring showers, muddy trails, and some areas may still be snow-covered or closed off.
Best camping spots for spring outdoors in US
Spring is the perfect season to explore the great outdoors, with blooming flowers and pleasant temperatures.
One of the best ways to experience the beauty of spring is through camping, and the US offers numerous spots perfect for an unforgettable adventure. Here are some of the top camping destinations for spring in the US: 
1. Yosemite National Park, California 
Yosemite National Park is famous for its stunning waterfalls, granite cliffs, and vibrant meadows. Spring is the ideal time to visit, as the waterfalls are at their most powerful and the wildflowers are in full bloom.
There are several campgrounds throughout the park, offering a variety of camping experiences, from tent to RV camping. 
2. Great Smoky Mountains National Park, Tennessee and North Carolina 
Located on the border of Tennessee and North Carolina, the Great Smoky Mountains National Park is home to lush forests and diverse wildlife.
Spring brings a beautiful display of wildflowers, making it a great time to hike and camp in the park. Choose from numerous campgrounds, including some that are open year-round. 
3. Zion National Park, Utah 
Zion National Park boasts incredible red rock formations, canyons, and a unique landscape. In spring, the weather is comfortable for exploring the park's hiking trails and camping under the stars.
There are three campgrounds in Zion, providing a variety of camping options for your spring adventure.
The US Forest Service is a great resource that provides information on camping in national forests throughout the US, including the best times to visit each forest. I recommend it for beginner campers who are looking to explore the natural beauty of the US outside of national parks.
Summer: The Classic Camping Season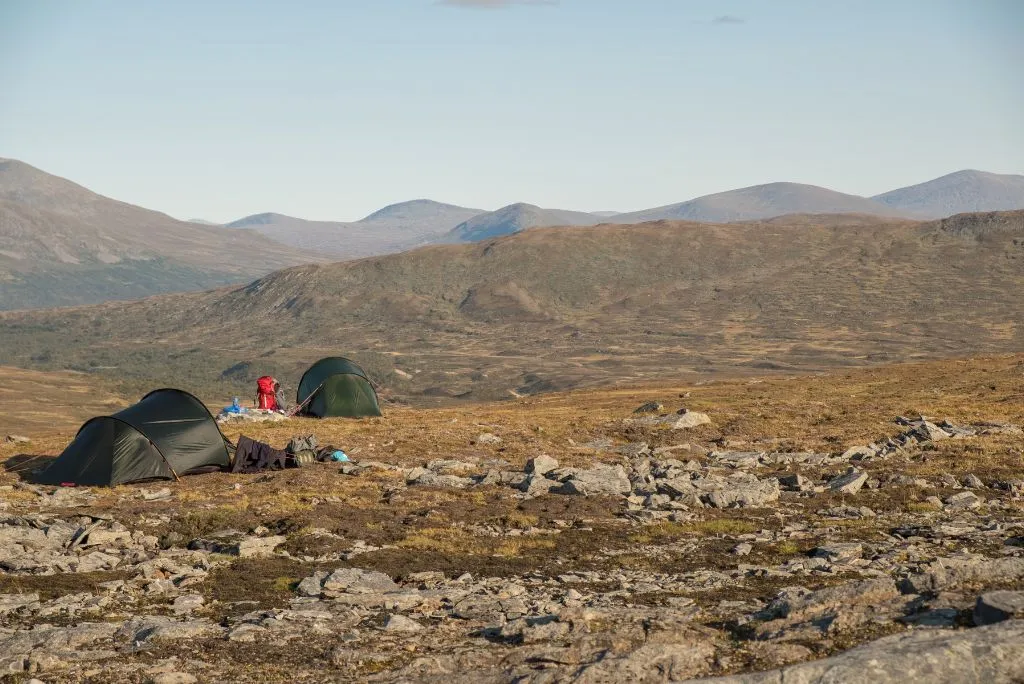 Summer is the most popular time for camping in the US, and for good reason. With warm temperatures, long days filled with sunshine, and countless outdoor activities to enjoy, it's the perfect season for families or groups of friends to explore the great outdoors and create unforgettable memories. 
Pros: Ideal weather conditions, wide range of available campsites, and numerous outdoor activities like hiking, swimming, and fishing.
Cons: Crowded campgrounds, bug season, and potentially high heat in some regions.
Best camping spots for summer outdoors in US
Ah, summer – the season when the great outdoors truly comes alive, offering an abundance of opportunities for campers to immerse themselves in nature's beauty.
Whether you're a beach bum, mountain enthusiast, or desert wanderer, here are some of the best camping spots in the US for summer adventures. 
The Coastal Getaway: Acadia National Park, Maine 
This stunning park offers campers a unique blend of rocky coastline and lush forests, making it an ideal destination for those seeking a coastal escape.
With miles of hiking trails, such as the popular Precipice Trail, and numerous campgrounds, like Blackwoods and Seawall, you'll never run out of scenic spots to explore. 
Mountain Majesty: Yosemite National Park, California 
Yosemite is a true paradise for mountain lovers, boasting towering granite cliffs, breathtaking waterfalls, and serene meadows.
The park offers a variety of campgrounds, including the family-friendly Yosemite Valley and the more remote Tuolumne Meadows. Be sure to catch a glimpse of the iconic Half Dome and El Capitan while you're there! 
Desert Dreaming: Zion National Park, Utah 
For those who prefer the rugged beauty of the desert, Zion National Park is a must-visit. With its striking red sandstone cliffs, narrow slot canyons, and the awe-inspiring Narrows hike, Zion offers a truly unique camping experience.
The Watchman Campground and South Campground both provide convenient access to the park's best attractions.
Fall: A Time of Colorful Change and Comfortable Camping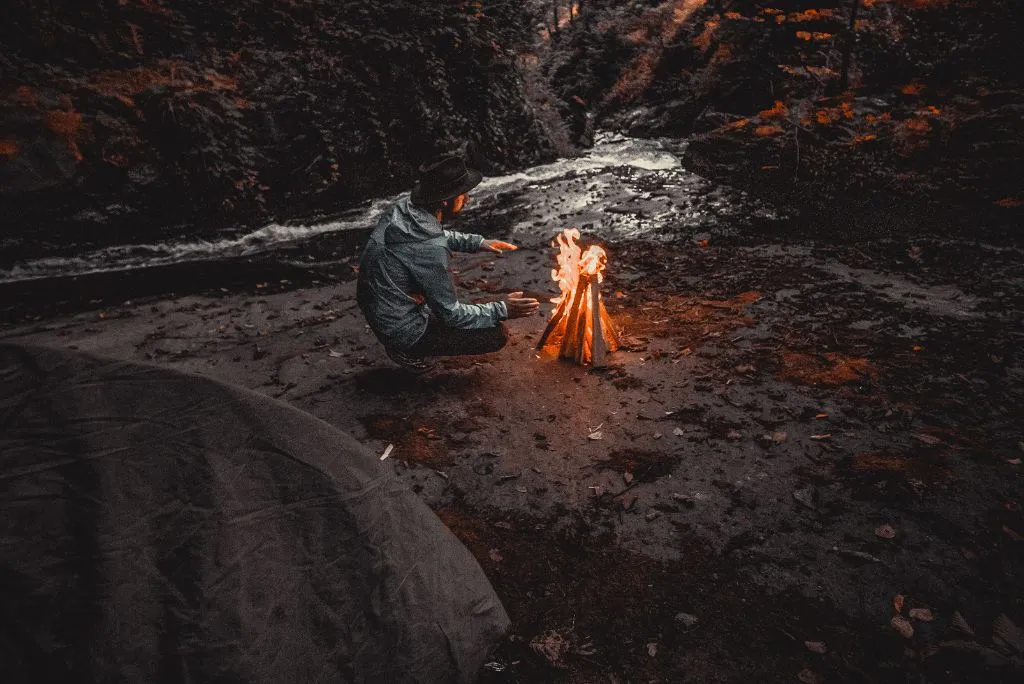 Fall is a great time to go camping in the US because of the cooler temperatures and beautiful foliage. With the summer crowds gone and the vibrant colors of autumn on display, it's a great time to enjoy the peace and quiet of nature while cozying up around a campfire under the stars. 
Pros: Beautiful fall foliage, cooler temperatures, and fewer crowds.
Cons: Unpredictable weather, shorter daylight hours, and some facilities may be closed for the season.
For more information about when you can camp, I recommend for you to visit this great resource The National Park Service Website.
Best camping spots for fall outdoors in US
Ah, fall, that magical time of year when the leaves change colors, and the air gets crisp and cool. It's the perfect time to go camping and experience the beauty of the great outdoors.
To help you plan your next adventure, here are some of the best camping spots for fall outdoors in the US: 
Acadia National Park, Maine 
With its stunning foliage display and mild temperatures, Acadia National Park is a must-visit in the fall.
This park is home to Cadillac Mountain, the highest point on the East Coast, offering breathtaking views of the changing landscape.
Great Smoky Mountains National Park, Tennessee and North Carolina 
Great Smoky Mountains National Park is one of the most visited parks in the US, especially during the fall season.
The park offers a variety of camping options, from backcountry sites to developed campgrounds. Be sure to drive the famous Cades Cove Loop and hike the trails to experience the vibrant fall colors up close. 
Yosemite National Park, California 
While Yosemite National Park is a popular destination year-round, fall offers a unique experience with fewer crowds and spectacular foliage.
Explore the park's famous granite cliffs, waterfalls, and giant sequoias while taking in the autumn colors.
Ultimately, the best time to go camping in the US depends on your personal preferences, the activities you enjoy, and the region you plan to visit.
No matter which season you choose, there's always something special waiting for you in the great outdoors.
The safety concerns that come with camping in the US
When planning a camping trip in the US, it's essential to consider various safety concerns to ensure a memorable and enjoyable experience in the great outdoors.
From wildlife encounters to weather conditions, being prepared can make all the difference. Let's explore some of the most common safety concerns and how to address them. 
Wildlife Encounters 
One of the main attractions of camping is the opportunity to be close to nature, but this also means encountering wildlife. In some areas, you might come across bears, snakes, or even mountain lions.
To minimize the risk of dangerous encounters: 
Store food and scented items securely, using bear-resistant containers or hanging them from a tree.
Make noise while hiking to avoid surprising animals.
Keep a safe distance and never approach, feed, or attempt to touch wild animals.
Weather Conditions 
Weather can be unpredictable, and sudden changes can pose risks to campers. To be prepared for various weather conditions: 
Always check the weather forecast before heading out.
Bring appropriate clothing and gear for rain, cold, and heat.
Learn how to set up your tent securely to withstand wind and rain.
Fire Safety 
Campfires are a beloved part of the camping experience, but they also pose a risk if not managed properly. To ensure fire safety: 
Only build fires in designated fire rings or fire pans.
Keep fires small and manageable, and never leave them unattended.
Extinguish your fire completely before leaving your campsite or going to bed.
FAQs
What are the peak camping seasons in the US?  
The peak camping seasons in the US are spring (April to June) and fall (September to November). These seasons offer comfortable temperatures, stunning natural beauty, and less crowded campgrounds compared to the busy summer months.
What are the least crowded times for camping in the US? 
The least crowded times for camping in the US are typically during the spring and fall seasons, as these periods witness fewer vacations and school breaks. Additionally, weekdays tend to be less crowded than weekends, making them an ideal choice for campers seeking solitude.
What are the busiest times for camping in the US? 
The busiest times for camping in the US are Generally, the summer months of June, July, and August are the busiest times for camping across the country. But, also in some regions, such as the Pacific Northwest and the Northeast, the fall months of September and October are also popular for camping.
Final Thought
In conclusion, the magic of camping truly comes alive when you find the perfect time to embark on your adventure.
So, whether you're chasing the warmth of summer nights, the vibrant colors of fall, or the crisp, cool air of spring, there's a camping experience waiting for you.
Remember to always plan ahead, respect nature, and most importantly, have fun exploring the great outdoors!
For more camping tips and tricks, visit our section. If you like it and find it useful, share it with your friends. If you have any questions, leave them in the comments.