Where to Winter Camp in Wisconsin – top winter destinations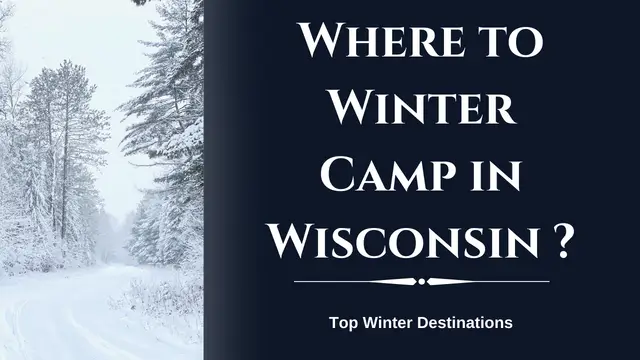 Wondering where to winter camp in Wisconsin? Look no further! I'm Jaden Burley, your trusted Wisconsin winter camping guide.
In this guide, I'll share my top picks places, as well as tips on how to plan your trip and stay safe and warm in the cold.
Here are some of the top winter camping destinations in Wisconsin:
Chequamegon-Nicolet National Forest
Blue Mound State Park
Kohler-Andrae State Park
Peninsula State Park
Governor Dodge State Park
Apostle Islands National Lakeshore
Exciting Winter Activities in Wisconsin
Get ready to embrace the snowy delight of Wisconsin's winter campgrounds! Our guide isn't just about camping; it's a gateway to thrilling winter experiences.
Here's a sneak peek at the excitement waiting for you:
Skijoring with Your Dog: A unique adventure where you and your furry friend hit the snowy trails together.
Riding the Snow Train: Experience the magic of winter landscapes aboard a scenic snow train journey.
Ice Fishing on Lake Winnebago: Discover the joy of ice fishing on one of Wisconsin's largest and most picturesque lakes.
Snow Tubing Extravaganza: Feel the adrenaline rush at the World's Largest Tubing Park.
Ziplining Through the Snow: Soar through the snow-covered trees at Wisconsin Dells.
Stone Throwing at the Milwaukee Curling Club: Try your hand at this classic winter sport in a friendly club setting.
Hiking Winter Trails: Explore the serene beauty of Wisconsin through its winter trails. Lace-up, and let the adventure begin!
6 Best Places to Winter Camp in Wisconsin
1. Chequamegon-Nicolet National Forest: A Backcountry Haven
Nestled across a dozen northern Wisconsin counties, the Chequamegon-Nicolet National Forest boasts about 1.5 million acres of pristine wilderness.
Here, winter campers can park their cars, embark on a short walk, find the perfect spot, and set up camp.
The forest is crisscrossed by two national scenic trails – the North Country and the Ice Age – offering a truly immersive winter camping experience.
I recommend for you this Youtube video from Frey's On The Side. This video documents a family's fall camping adventure in Chequamegon-Nicolet National Forest, where they embrace the transition to winter.
2. Blue Mound State Park: A Southern Retreat with Panoramic Views
For those seeking the highest elevation in the southern region and spectacular views, Blue Mound State Park is the answer.
With well-marked trails catering to hikers, mountain bikers, and winter sports enthusiasts, this park is a haven for those looking to cross-country ski and experience the serene beauty of the Wisconsin River valley and Baraboo Range.
"First time at this campground and it was amazing! Nice campsite and excellent hiking trails. We will be back!" Vicki H
3. Kohler-Andrae State Park: Winter Camping by the Shore
Experience the enchanting winter landscapes along the Lake Michigan shoreline at Kohler-Andrae State Park.
With over two miles of beaches, sand dunes, and a forest featuring 250 miles of hiking trails, this park offers a diverse winter camping experience.
Family campsites are open and snow plowed for access, providing a cozy winter retreat.
"A Winter Camping Gem. What a beautiful place to camp in winter! Staff is helpful and friendly. Our site had a view to the lake and just a short walk to the beach. Many trails offered and nicely groomed for the snow. We'll be back in summer!" Beth
4. Peninsula State Park: Door County's Winter Gem
Situated in Door County, Peninsula State Park remains one of Wisconsin's most visited camping areas.
While it usually sees a bustling summer crowd, winter transforms it into a tranquil haven for a dozen or so winter campers.
With a portion of Tennison Bay Campground remaining open for winter camping, complete with electrical hookups, freshwater, and vault toilets, Peninsula State Park offers a premier winter destination without the summer crowds.
5. Governor Dodge State Park: Thrills in the Driftless Region
Located not far from the Wisconsin Dells in the Driftless Region, Governor Dodge State Park beckons thrill-seekers on a winter camping adventure.
Explore the park's cool options for an adrenaline-packed winter experience, making it a unique destination for those looking to combine camping with exhilarating activities.
But there is a negative point related to the rates, Matt T reviewed, "For winter camping, Governor Dodge is kind of pricey. I don't think that they should be charging summer rates during the dead season."
6. Apostle Islands National Lakeshore: Extreme Winter Camping Adventure
For the daring souls seeking the pinnacle of winter camping adventures, look no further than Apostle Islands National Lakeshore.
If Lake Superior freezes between the mainland and the island chain, you can cross-country ski to one of the 21 islands.
Be prepared for an extreme camping experience, exploring rock caves and ice formations on the shoreline.
Permits are required for all camping, ensuring a controlled and awe-inspiring winter adventure.
I recommend for you this Youtube video from UpNorth Adventures, where they showcase a solo winter backpacking adventure along the Apostle Islands Lakeshore Trail, featuring beautiful scenery, sea caves, and challenging trail conditions.
These Wisconsin winter camping destinations promise not just seclusion and serenity but also a diverse range of landscapes and activities to make your winter escape truly unforgettable.
Embrace the cold, brave the elements, and discover your winter oasis in the heart of Wisconsin!
Essential Tips for Winter Camping in Wisconsin
As you embark on your winter camping journey in Wisconsin, here are key insights:
Where to Find Campsites:
Explore diverse options from national forests to state parks.
Check availability and make reservations in advance.
Consider proximity to winter activities and accessibility.
Recommended Reading: How To Go Winter Camping: A Complete Guide For Beginners
Packing Essentials for the Cold:
Invest in quality winter gear like insulated clothing and waterproof boots.
Pack a reliable four-season tent for warmth and protection.
Bring a sleeping bag suitable for sub-zero temperatures (mummy bags are ideal).
Read more: How To Pack For Winter Camping?
Cooking Tips for Winter Camping:
Opt for easy-to-prepare, hearty meals to stay energized.
Use a portable stove or camping cookware designed for cold conditions.
Stay hydrated with warm drinks and insulated water bottles.
Read more: Cook While Camping: Essential Gear, Techniques And Recipes
Additional Information for a Successful Winter Camping Experience:
Be aware of wildlife activity and take necessary precautions.
Check weather forecasts regularly and be prepared for sudden changes.
Follow Leave No Trace principles, respecting the winter wilderness.
Check the Wisconsin Department of Natural Resources website for more camping reservations and regulations.  
Wrapping Up Wisconsin Winter Camping
Embark on a Wisconsin winter camping odyssey that's both magical and thrilling.
With this guide, you'll discover the best places to camp, activities to enjoy, and tips from a seasoned camper.
Got questions or want to share your own winter escapades? Share your thoughts in the comment section below.
Let's build a community of winter wanderers sharing tips, experiences, and the joy of Wisconsin's winter wonderlands.
Related Articles: