CORE 6 Person Instant Cabin Tent with Awning
Hey there, camper! Looking for a reliable partner for your summer camping adventures? We've got just the ticket – the CORE 6 Person Instant Cabin Tent with Awning.
We've dug deep and done all the research for you, so kick back and allow us to fill you in on all the details that make this tent a winner, as well as a few things you might want to consider before making the purchase.
Should You Buy the CORE 6 Person Instant Cabin Tent?
The CORE 6 Person Instant Cabin Tent is perfect for your casual camping escapades. While it doesn't boast a vestibule or extra storage space, it excels in quick setup and a spacious interior.
According to expert reviewer McCallister, "[it] sets up in a jiffy, just 60 seconds!" This makes it a top pick for car camping.
The Setup Process
The setup of the CORE 6 Person Instant Cabin Tent is incredibly straightforward. Here's a step-by-step guide:
Remove the tent from its carrying case. Inside, along with the tent, you'll find the tent poles, rainfly, and stakes.
Unfold the tent on the ground, making sure to position it with the door facing your desired direction.
Extend the pre-attached poles until they click into place. You'll notice the tent will start to stand up on its own.
Use the stakes to secure the tent into the ground. This is important for stability and should not be skipped, even in calm weather.
Finally, attach the rainfly at the top of the tent for added weather protection.
And voila! Your tent should be set up in a matter of minutes. It's a process so easy that many campers have verified the claim of a 60-second setup.
Is It Worth Your Hard-Earned Money?
On a budget? No worries. While not the cheapest, it won't break the bank. The tent offers value for money with its quick setup and features like a wall organizer. As one consumer review puts it, "you get a lot of bang for your buck with this tent."
Key Features & Benefits
Does It Have Enough Room to Stretch Out?
The CORE Instant Cabin Tent measures up nicely at 11 x 9 feet and a peak height of 6 feet. It's cozy enough for four humans and a furry friend, but might feel a bit snug for six adults.
A friendly tip from us: For the best camping experience, consider going two less than the max capacity.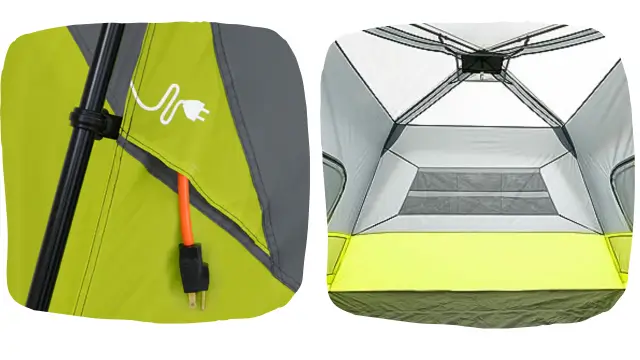 How About Family Camping?
For smaller families, this tent works wonders. It even comes with an electricity port for charging your gadgets. But if you've got a larger family or privacy is high on your list, you might want to look at bigger options.
Backpacking and Hiking – Yes or No?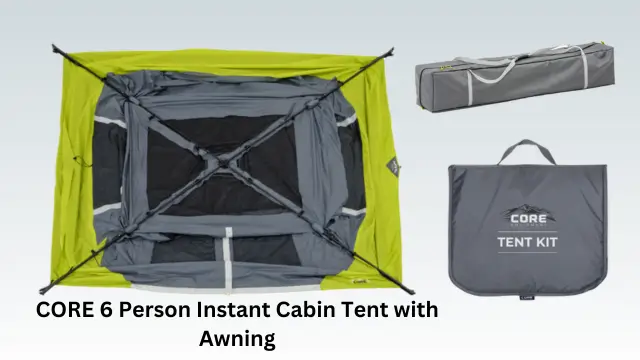 While it sets up faster than you can roast a marshmallow, its size and weight might not make it the best buddy for intense hiking or backpacking. In this case, a lighter, more compact tent might be your go-to.
Will Tall Campers be Comfy?
Tesla Sheen raves about the tent's interior space, saying, "For taller campers, the standing height is a real bonus, allowing you to move around comfortably." Whether you're camping with family or friends, this tent has room to spare. 
Will My Gear Fit In?
While the CORE tent might not have a walk-in closet for your gear, it does have an innovative wall organizer for personal items and a gear loft that's ideal for family camping.
But remember, if you're planning on bringing the kitchen sink, you might need a bigger tent.
Protection and Weather Resistance
When camping, protection from the elements is paramount – and the CORE 6 Person Instant Cabin Tent delivers on this front.
Constructed from durable 68D Polyester, this material is known for its resistance to wear and tear, providing a reliable shield against the weather.
Tent Fabric and Weather Resistance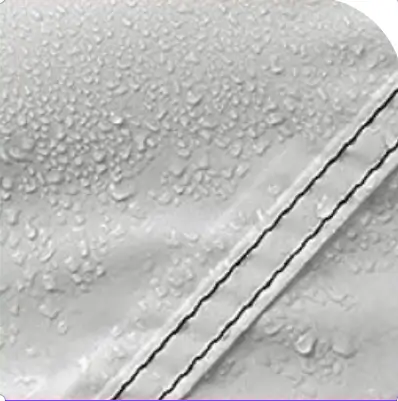 The removable rainfly and the tent walls feature a 600mm Hydrostatic Head rating. This measurement, while not the highest, is still very effective at shielding you from light rain.
Additionally, the seams of the tent are sealed with CORE's H20 Block Technology, which significantly enhances the overall water resistance of the tent.
This feature ensures that even in a downpour, the water will be kept outside, where it belongs.
Limitations of the Tent Material
However, it's important to note that while Polyester is a robust and reliable material, it is not indestructible. Conditions such as strong winds and heavy rain can stress the material to its limits.
The tent's structure, with its pre-attached poles, is designed to withstand typical weather conditions but may struggle under severe storms.
Recommended Additional Protective Measures
For campers planning trips in areas with unpredictable weather, we recommend investing in additional protective measures to safeguard against extreme conditions.
A tarp, for instance, can provide an extra shield against heavy rainfall and can help protect the tent floor from rough terrain. McCallister advises, "if your camping trip involves potential bouts of bad weather, investing in a tarp and waterproofing spray might save the day."
Additionally, a waterproofing spray can increase the water resistance of your tent fabric, ensuring it can withstand heavier bouts of rain.
With these additional steps, you'll increase your comfort level, ensuring you stay dry no matter what Mother Nature has in store.
By investing in the CORE 6 Person Instant Cabin Tent, you're investing in a reliable shelter that will help protect you from the elements during your camping adventures.
And with a few additional measures, you can enhance your tent's weather resistance to ensure a pleasant camping experience, no matter the weather.
Durability: Is It Built to Last?
The CORE 6 Person Instant Cabin Tent is a definite standout in terms of durability, owing to its sturdy design and high-quality material.
The tent fabric is made from a robust 68D Polyester that's known for its resistance to wear and tear, ensuring the tent can weather many camping trips.
Additionally, the tent poles are made from sturdy and lightweight telescoping steel, contributing to the overall stability.
The tent also gets bonus points for its removable rainfly, crafted from the same 68D Polyester, which offers added protection against the elements. Plus, it comes with a one-year warranty, assuring user confidence in the product.
But, in terms of stability and longevity, it's advisable to invest in larger tent stakes, especially if you plan to camp in areas with high winds or uneven terrain.
Can I Carry It Easily?
Packing a weight of 23 lbs, the CORE tent isn't the lightest tidbit, but it does come with handles for easier transport. It packs down to a manageable size, making it relatively portable for short distances.
What About Setup and Takedown?
The CORE tent makes setup a breeze! It might need a little assistance to stand up, but it is simple enough for a one-person job. Takedown is a little trickier, but still very doable.
The Takedown Process
Packing up the CORE tent is a bit more challenging than setting it up, but once you've done it a couple of times, it should become a breeze. Here are the steps:
Remove the rainfly and keep it aside.
Pull out the stakes from the ground and start collapsing the tent poles. Be careful to do this gently to avoid damaging the tent fabric or the poles.
Once the tent is collapsed, it's time to fold it up. Try to make the folded tent the same width as the carrying case — it makes packing easier.
Roll the tent tightly, pushing out excess air as you go. If the tent is damp, ensure it's properly dried out before packing to prevent mold and mildew.
Place the tent, stakes, and rainfly back into the carrying case
Potential Issues During Setup and Takedown
While the process is generally smooth, there could be a few potential hiccups to keep in mind during both setting up and taking down the tent:
Pole Assembly: Although the pre-attached poles make setup quick and easy, remember to be gentle while extending them, as pushing too forcefully could potentially damage the poles. So, always handle with care.
Staking: The stakes provided with the tent are adequate for most ground types, but if you're camping on particularly hard or soft ground, you might need to invest in specific stakes designed for these conditions. Also, remember to pull out the stakes carefully when taking down the tent to prevent any damage.
Rainfly Placement: Attaching the rainfly can sometimes be a bit tricky, especially in windy conditions. Make sure to secure it properly to avoid it blowing away or not providing proper rain protection.
Folding and Packing: Packing the tent back into its case can be a challenge if not done correctly. Fold carefully and roll the tent tightly, ensuring to push out excess air as you go. If the tent is damp, allow it to dry before packing to prevent mold and mildew.
The CORE 6 Person Instant Cabin Tent's setup and takedown processes are user-friendly, quick, and intuitive.
With a bit of practice, you'll be a pro in no time, ready for your camping escapades. As always, handling your tent with care and consideration will ensure its longevity and your satisfaction.
What If I Want to Explore Other Options?
That's fair! If you're keen on considering other options on our review for the Best Instant Tent 6 Person:
HUI LINGYANG 6 Person Easy Pop Up Dome Tent
Coleman Tent with Instant Setup
Gazelle Instant Pop Up Tent with Removable Floor
All these are great alternatives, each with their unique features tailored to different camping needs.
Final Thoughts
In a nutshell, the CORE 6 Person Instant Cabin Tent is a splendid choice for summer campers craving comfort, convenience, and value.
Its breathability, rapid setup, and thoughtful features make it a top pick for couples, petite families, and squads of friends.
While it may not be your ultimate camping companion in every situation, its perks definitely outweigh its minor glitches.
We're awarding this tent a near 5-star review, and we're confident it could be a game-changer for your outdoor adventures.
Remember, camping is all about the experience. Make sure to choose a tent that matches your style, needs, and the nature of your trip. And above all, don't forget to enjoy the beauty of the great outdoors!