4 Best Snow Tent for Your Winter Camping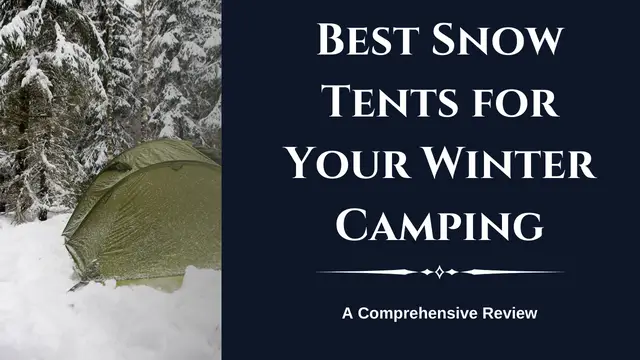 Some links of this page are affiliate links, and that means that I may earn a commission if you buy something, at no extra cost to you. You can find my full disclosure policy here.
Winter camping brings a unique set of challenges and joys, and having the right snow tent is crucial for a comfortable and safe experience.
In this comprehensive review, we'll guide you through some of the best snow tents for your winter camping. Whether you're a seasoned winter camper or a newbie looking to explore the snowy landscapes, we've got you covered.
Quick Recommendations
What's Most Important to You in a Snow Tent?
When choosing a snow tent, consider the following essential factors:
Weather resistance: Look for tents with durable materials and features that can withstand snow, wind, and rain.
Ease of setup: Choose tents that are easy to pitch in cold and snowy conditions.
Durability: Prioritize tents with high-quality construction and materials that can endure the wear and tear of winter camping.
Interior space and comfort: Evaluate the tent's interior space and design to ensure it is comfortable and spacious enough for occupants and gear.
Versatility: Opt for tents that are versatile and can be used in different environments and weather conditions.
Price range: Determine your budget and find a tent that offers a good balance between cost and quality.
User reviews: Read online reviews and user feedback to get insights into real-world experiences with different snow tents.
Keep these factors in mind when shopping for a snow tent to ensure you choose the best option for your needs and budget.
Tent Snow Comparison Table
| Feature | Naturehike Cloud-Up 2 | MSR Remote 4-Season 3-Person | Clostnature Lightweight 2-Person | ForestDawn Camping Tent |
| --- | --- | --- | --- | --- |
| Setup | Quick, solo-friendly | Breeze setup | Intuitive, color-coded | Easy, ideal for motorcycle camping |
| Weather Resistance | Effective | Exceptional | Reliable | Weather-tested for all seasons |
| Interior Space | Sufficient for 2 | Spacious for 3, vertical walls | Ample room for 2, dual entries | Comfortable for 2, spacious design |
| Versatility | Adaptable | Suitable for various outdoor activities | Reliable four-season companion | Ideal for motorcycle camping, travel-friendly |
| Durability | Commendable | Carbon fiber poles, careful handling needed | Sturdy materials | Potential concern with anchor mounts |
| Price Range | Affordable | Higher range, justifiable for premium features | Affordable | Good value for the price |
| User Community Insights | Generally positive | Positive consensus, especially for durability | Positive reviews | Positive rating, potential durability concerns |
Best Snow Tents of 2023
1. Naturehike Cloud-Up 2 Person Tent Lightweight Backpacking Tent
Naturehike Cloud-Up 2 Person tent's Features
Setting up the Naturehike Cloud-Up 2 Person Tent was a breeze. The process was quick and straightforward, even for a solo camper.
The design and color-coded components made it easy to assemble, and the included instructions were clear. The tent stood firmly once set up, providing a sense of security.
I tested the tent in various weather conditions, including light rain and wind. The waterproofing held up well, and I remained dry inside.
The rainfly effectively diverted water, and the sturdy construction withstood moderate winds. However, it's advisable to use additional stakes in windy conditions for added stability.
For a two-person tent, the Cloud-Up 2 offered sufficient space. The interior design maximizes floor space, and the peak height is comfortable for sitting up.
The tent's ventilation system worked efficiently, preventing condensation even during colder nights.
The tent proved versatile in different environments. From mountainous terrain to beach camping, it adapted well.
The mesh panels provided excellent airflow in warmer conditions, while the rainfly ensured comfort during light rain. The freestanding design allowed flexibility in choosing the campsite.
Durability in the Details
The build quality of the tent is commendable. The materials used felt sturdy, and the attention to detail, such as reinforced seams and quality zippers, contributed to its overall durability. I observed no signs of wear and tear after multiple uses.
Considering its features and performance, the Naturehike Cloud-Up 2 falls into an affordable price range.
It offers a great balance between cost and quality, making it an attractive option for budget-conscious campers without compromising on essential features.
Exploring online reviews revealed a generally positive sentiment among users.
Many praised its performance in various conditions, and the affordability was a common highlight. Some users suggested bringing extra stakes for added stability, echoing my own experience.
Naturehike Cloud-Up 2 Person tent's Pros and Cons
Pros
Cons
Easy and quick setup
Additional stakes recommended in wind
Effective weather resistance
Limited gear storage space
Spacious interior design
Versatile for different environments
Durable construction with attention to detail
Affordable price range
Overview
The Naturehike Cloud-Up 2 Person Tent proved to be a reliable companion for my camping adventures.
Its ease of setup, weather resistance, and versatility make it a valuable addition to any camper's gear collection.
Considering the positive user community feedback and its affordable price, I would recommend this tent to both beginners and experienced campers alike.
2. MSR Remote 4-Season 3-Person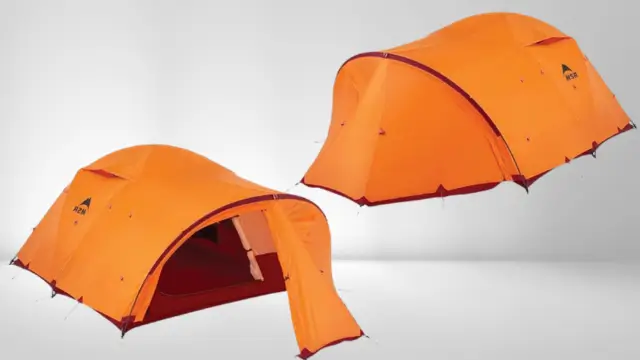 MSR Remote 4-Season tent's Features
Setting up the MSR Remote 4-Season tent proved to be a breeze. The design incorporates ultra-durable Easton Syclone poles and a unique central-support frame.
Even in challenging conditions, the tent maintained stability, thanks to its thoughtful design. The quick and easy setup is crucial, especially when weather conditions are less than ideal.
The tent excelled in the face of adverse weather conditions. The DuraShield coating and robust construction make it highly resistant to severe weather, including heavy snow loads.
During my testing, the tent provided a secure shelter, protecting against wind, rain, and snow, making it a reliable choice for all-season camping.
The MSR Remote 4-Season tent offers an excellent balance between rugged durability and interior comfort.
The large floor space accommodates three persons comfortably, and the well-designed vestibule adds extra room for gear storage.
The nearly vertical walls maximize the usable space, and the thoughtful design ensures a comfortable camping experience.
This tent is truly versatile, suitable for a range of outdoor activities. Whether used for mountaineering expeditions or summer-time camping, the MSR Remote 4-Season adapts well to various scenarios.
Its adaptability makes it a valuable investment for campers seeking a reliable, year-round shelter.
Durability in the Details:
The carbon fiber poles add a lightweight yet durable aspect to the tent. However, it's essential to note that you need to handle them with care during assembly, as the cut ends of the poles are not sealed.
This attention to detail is critical for maintaining the tent's long-term durability.
With a price point of $736.14, the MSR Remote 4-Season tent falls within the higher range of camping tents.
But, considering its durability, weather resistance, and versatility, the investment is justifiable for outdoor enthusiasts who prioritize a reliable and durable shelter.
Feedback from the user community reflects a positive consensus on the MSR Remote 4-Season tent.
Users appreciate its durability in challenging conditions, easy setup, and the thoughtful design that caters to the needs of serious campers and mountaineers.
MSR Remote 4-Season tent's Pros and Cons
Pros
Cons
Exceptional weather resistance
Carbon fiber poles require careful handling
Easy and quick setup
Relatively higher price point
Spacious interior with vertical walls
Versatile for various outdoor activities
Overview
The MSR Remote 4-Season 3-Person Mountaineering Tent stands out as a top-tier option for campers and mountaineers seeking a durable, weather-resistant, and versatile shelter.
Its thoughtful design, spacious interior, and adaptability make it a valuable investment for those who prioritize performance in challenging outdoor conditions.
While the price may be on the higher side, the tent's overall quality justifies the investment for serious outdoor enthusiasts.
3. Clostnature Lightweight 2-Person Backpacking Tent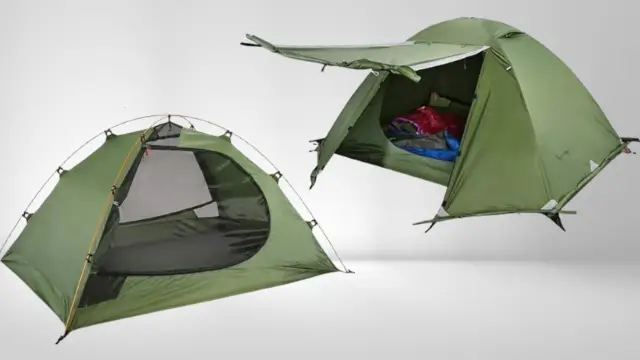 Clostnature Lightweight Tent's Features
The initial setup was a breeze. Even without prior experience with this specific tent, I found the process intuitive.
The color-coded components and straightforward instructions made pitching the tent a quick and hassle-free task. Within minutes, my shelter for the night was ready to withstand whatever nature had in store.
One concern echoed in various reviews was the tent's performance in adverse weather conditions. Fortunately, I had the chance to put it to the test during a night of unexpected rain.
The rainfly proved its worth, keeping me dry and comfortable. The thoughtful design, including a cover to shield against cold winds, added an extra layer of protection.
As someone who values personal space, the tent's interior dimensions were a pleasant surprise. There was ample room for two occupants without feeling cramped.
The dual entries and vestibules added a level of convenience, ensuring easy access and storage for both occupants.
What truly impressed me was the tent's versatility. It accompanied me on a variety of trips, from a chilly mountain retreat to a rain-soaked camping experience.
It handled each scenario with ease, proving its capability as a reliable four-season companion.
Durability in the Details:
The quality of materials and construction became evident over the course of my journeys.
Zippers operated smoothly, and the overall build quality stood up to the wear and tear of outdoor adventures. Even after multiple setups and takedowns, the tent retained its structural integrity.
$89.99. With this price, the tent is an affordable option without compromising on quality, making it a great choice for budget-conscious winter campers.
Before my purchase, I delved into online communities for insights. The Clostnature tent had garnered positive feedback, and my experience aligned with the sentiments of fellow campers. It's reassuring to see a product that lives up to its reputation.
Clostnature Tent's Pros and Cons
Pros
Cons
Easy setup
Small carry bag and the durability of their zipper
Good ventilation
Thin fabric
Multiple pockets
Poor moisture prevention
Ceiling hook
Tie-loops
Spacious
Lightweight
Overview
In the realm of backpacking tents, the Clostnature Lightweight 2-Person Backpacking Tent has become my go-to choice. From ease of setup to its resilience in varied conditions, this tent exceeded my expectations.
As a seasoned camper, I highly recommend it to those seeking a reliable, versatile, and durable shelter for their outdoor pursuits.
4. ForestDawn Camping Tent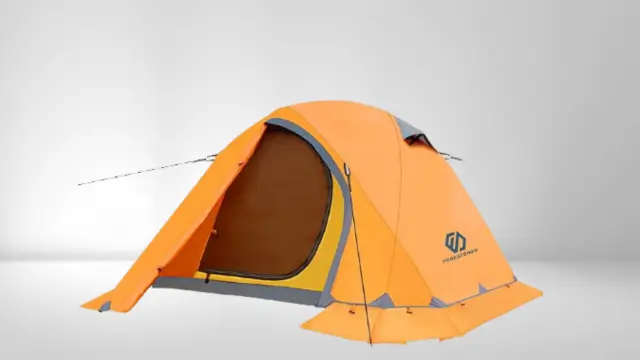 ForestDawn Tent's Features
The ForestDawn Camping Tent is easy to set up, with smooth zippers and a large vestibule. And perfect for motorcycle camping.
Weather Resistance Test:The tent is weather-tested forall seasons and is waterproof, with material that repels water.
The spacious and compact design of this tent makes it ideal for motorcycle camping and hiking. The good headroom and spaciousness provide plenty of room for you and your gear, while the small, compact design makes it easy to stow in a backpack.
In other words, this tent is big enough to be comfortable, but small enough to be portable.
Lightweight and sturdy, the tent is a travel and hiking-friendly 2-person tent. With its cool design, it is suitable for kids and adults.
Durability in the Details:
The quality of the materials used in the construction of this product is excellent, but two anchor mounts ripped during use. The primary material is lightweight yet tough and not prone to picking or snagging.
The tent is well-made and uses high-quality materials, but there is a potential durability issue with the anchor mounts
The main material of the tent is lightweight and durable, and it is unlikely to get damaged or caught on things.
With a price of $99.99. It is a quality tent for the money, but potential buyers should be aware of potential durability concerns.
The overall rating is 4.4 out of 5 stars based on 124 reviews, with positive feedback. Users appreciate its ease of setup, spacious design, and weather resistance, but caution is advised regarding potential durability issues.
Pros & Cons of ForestDawn Tent
Pros
Cons
Easy to set up
Anchor mounts may lack durability
Spacious design
May not handle strong wind well
Weather-tested for all seasons
Weight might limit backpacking use
Lightweight and sturdy
Good value for the price
Overview
The ForestDawn Camping Tent appears to be a versatile and user-friendly option for camping, offering a balance between ease of use, weather resistance, and comfort.
However, potential buyers should be cautious about potential durability issues, especially in challenging weather conditions.
Conclusion
Choosing the best snow tent depends on your specific needs, preferences, and budget. Each of the tents reviewed here offers unique features to cater to different winter camping scenarios.
Whether you prioritize lightweight portability, robustness in extreme conditions, or affordability, there's a snow tent for you.
Remember to consider factors such as size, weight, durability, and price when making your decision.
Need More Tent Advice?