First Time Camping with Family: An Ultimate Guide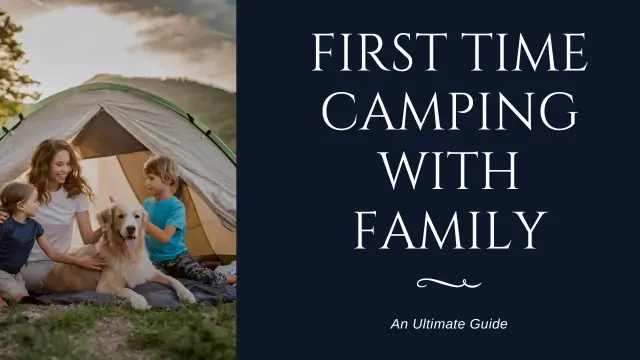 Camping is an excellent way to bond as a family, get back to nature, and create lasting memories. But if you're embarking on your first-time camping trip, it can also seem a bit daunting.
Don't worry, we've got you covered. Here's our ultimate guide to help you navigate through the wilderness of family camping for the first time and ensure everyone has a fun and enjoyable experience with people they love.
"Camping with family is a reminder that some of life's best memories are made in the great outdoors, surrounded by the people that we love."

Anonymous
1. Planning Your Trip
The first step to any successful camping trip is planning.
Start by deciding where you want to go. National or state parks are great options that often offer beautiful surroundings and plenty of amenities.
You'll also want to consider what type of camping experience you want. Do you fancy roughing it in a tent, or would you prefer the comfort of a cabin or RV?
Remember, there's no right or wrong answer here. It's all about what works best for your family.
Read about: Why Do People Feel The Need To Go Camping?
2. Choosing the Right Campsite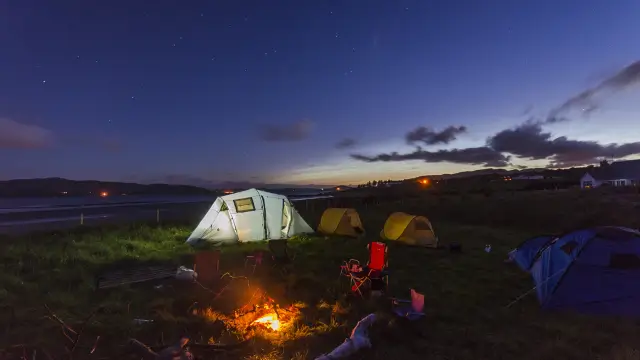 Picking the perfect campsite can make a world of difference. Research beforehand is key.
Look for a site that suits your family's needs – do you need a site with restroom facilities or one near a water source? How about proximity to hiking trails or fishing spots?
Consider the layout and terrain of the campsite. Is it flat enough for setting up your tent? Does it have a fire pit or grill? Is there enough shade or sunlight, depending on your preference?
Remember to check the rules of the campsite too, some may have restrictions about noise levels or campfires.
"Camping with family is not just about the destination, it's about the journey we take together to get there."

Anonymous
3. Selecting the Right Tent
Your tent is your home away from home, so choose wisely. Consider the size first – you'll want a tent that can comfortably fit your entire family plus your gear.
Look for a tent with a high-quality rainfly (the outer layer of the tent) to protect you from unexpected weather changes.
A tent with plenty of mesh windows and vents can provide good ventilation, reducing condensation and keeping the tent cool during warm nights.
Ease of setup is another factor to consider. Some tents come with color-coded poles or quick pop-up mechanisms which can be a blessing after a long day of travel.
4. Packing Essentials
Packing is crucial to any camping trip. Be sure to bring the basics such as tents, sleeping bags, cooking equipment, and food.
Also, don't forget about clothing. Pack layers to accommodate changing weather conditions, and remember hats and sunscreen for sun protection.
A good rule of thumb is to pack as if you were going to be away from home for a couple of days without access to stores.
Read more: How To Keep Food Cold While Camping
5. Camping with Pets
Bringing a pet along can add to the fun, but it requires extra planning. Check if your chosen campsite allows pets, and familiarize yourself with their rules.
Ensure your pet's vaccinations are up-to-date and they have a reliable flea and tick protection.
Pack enough food, water, and any medications your pet might need. Don't forget a leash, pet waste bags, and a comfortable sleeping setup for them.
Keep your pet's temperament in mind. If your pet is not used to being outdoors or around other people and pets, it might be best to leave them at home.
Read more: How Much Water To Bring Camping?
6. Campsite Setup
Once you arrive at your campsite, setting up should be your first order of business.
If you're using a tent, practice setting it up at home before you leave. This way, you'll avoid any frustration when you arrive at your campsite.
And remember, the goal is to leave the campsite as you found it. So, be respectful of nature, and keep your site clean.
7. Family Activities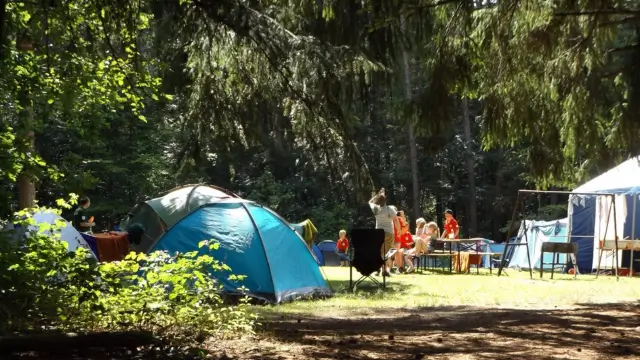 One of the best parts about camping is all the fun activities you can do as a family.
Hiking, fishing, swimming, and wildlife spotting are just some of the things you might enjoy.
But also consider bringing along games that everyone can play together in the evening around the campfire.
8. Safety First
Safety should always be a top priority when camping. Make sure each family member knows what to do in case of an emergency.
Also, teach your kids about the importance of not wandering off alone and always having a whistle to signal for help if they get lost. Read our article about how to camp with kids.
9. Enjoy the Experience
Lastly, remember to enjoy the experience. It's not often that we get to disconnect from our busy lives and spend quality time with our loved ones in nature.
So, take a deep breath, soak in the surroundings, and enjoy every minute of it.
"Camping isn't really a vacation,but it sure makes for good memories."

Julie Kieras
More In-Depth Tips
Plan your meals: Plan and pack your meals beforehand. Pre-cook and freeze meals when possible to minimize cooking time at the campsite.
Pack smart: Organize your gear by frequency of use. Keep essentials like flashlights, first aid kits, and snacks easily accessible.
Leave no trace: Follow the leave no trace principles. Whatever you bring into the campsite should leave with you, including trash and leftover food.
Weather check: Keep an eye on the weather forecast for your camping days. This can help you pack appropriate clothing and gear.
First aid kit: Always bring a well-stocked first aid kit and familiarize yourself with basic first aid procedures.
Camping with your family for the first time may seem like a big adventure, and it is! But with proper planning and preparation, it can also be a fun, rewarding, and unforgettable experience. Happy camping!