How to Choose a Sleeping Bag: A Comprehensive Guide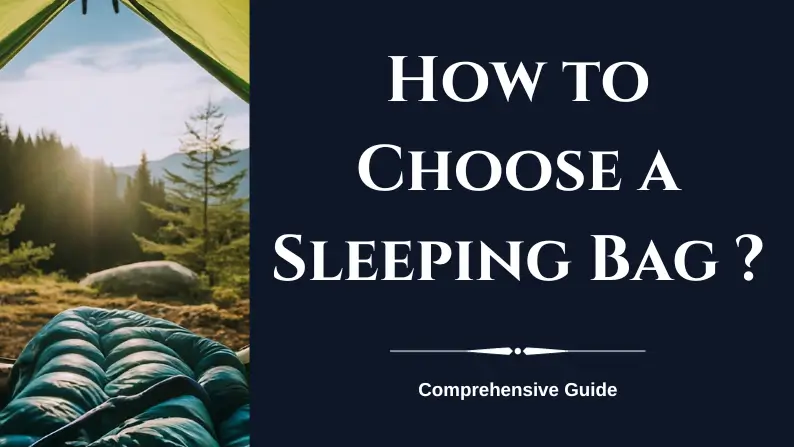 Choosing the right sleeping bag is a crucial decision for any camper. As a seasoned outdoors enthusiast, I understand the importance of a good night's sleep in the wilderness.
In this comprehensive guide, I'll walk you through the essential factors to consider when selecting the perfect sleeping bag for your camping adventures.
1. Temperature Rating and Seasonality
The best way to choose a sleeping bag is to consider the lowest temperature you expect to encounter during your trips and choose a bag rated slightly lower.
For example, if you expect the lowest temperature to be 20 degrees Fahrenheit, choose a sleeping bag rated for 15 degrees Fahrenheit. This will ensure that you are comfortable even if the temperature drops unexpectedly.
Here's a quick guide to choosing the best temperature rating for your sleeping bag:
Summer camping: 30-50°F (0-10°C)
Shoulder season camping: 20-32°F (-6°C to 0°C)
Winter camping: 10°F and below (-18°C and below)
2. Insulation Types
There are two main types of insulation: down and synthetic.
Down Sleeping Bag
Down insulation is known for its excellent warmth-to-weight ratio. It is made from the soft, fluffy feathers that are found under the outer feathers of waterfowl, such as ducks and geese.
Down sleeping bag are incredibly light and pack down small, making them ideal for backpacking and other outdoor activities. However, down can lose some of its insulating properties when it gets wet.
Read also: How To Wash A Down Sleeping Bag
Synthetic Sleeping Bag
Synthetic insulation sleeping bags are designed with man-made fibers, these bags excel in various conditions.
Unlike down, they retain warmth even when wet, a key advantage in unpredictable weather. Affordable and easy to maintain, synthetic bags are ideal for budget-conscious campers. Quick drying times add to their convenience.
Whether in the mountains, on the beach, or in the forest, a synthetic insulation sleeping bag guarantees a comfortable night's sleep, no matter the weather.
Tips: Assess your camping conditions to choose the most suitable insulation for your needs.
3. Bag Shape
Sleeping bags come in various shapes: rectangular, mummy, semi-rectangular, double, quilt, barrel-shaped, and envelope sleeping bags.
Rectangular Sleeping Bags:
These bags boast a basic rectangular shape, providing ample space to move around.
Pros: Spacious and comfortable, making them suitable for warmer weather or indoor use.
Cons: Less efficient insulation due to the larger internal space.
Rectangular sleeping bags are the go-to choice for campers who prioritize roominess and freedom of movement over maximum insulation.
Mummy Sleeping Bags:
Tapered towards the feet and hooded, resembling the shape of a mummy.
Pros: Efficient insulation, lightweight, and compact design.
Cons: Limited room for movement, may feel restrictive to some campers.
Mummy sleeping bags are the top pick for cold-weather camping, providing excellent thermal efficiency at the expense of some wiggle room.
Semi-Rectangular Sleeping Bags:
A hybrid shape that combines features of both rectangular and mummy bags.
Pros: Offers a balance between comfort and insulation, suitable for various conditions.
Cons: May not excel in extreme temperatures as specialized shapes.
Ideal for those who seek a versatile sleeping bag, the semi-rectangular shape provides a compromise between space and insulation.
Double Sleeping Bags:
Designed for two people, these bags can be rectangular or mummy-shaped.
Pros: Ideal for couples or those who prefer to share body heat.
Cons: Heavier and bulkier than single-person bags.
Double sleeping bags foster a sense of togetherness during camping but come with the trade-off of added weight and size.
Quilt Sleeping Bags:
Essentially a blanket with a foot box, allowing for versatile use.
Pros: Lightweight, compact, and customizable insulation.
Cons: Requires a good sleeping pad for insulation underneath.
Quilt sleeping bags offer a minimalist approach, perfect for those who prioritize weight and adaptability in their camping gear.
Barrel-shaped Sleeping Bags:
Slightly wider in the shoulder area and narrower at the feet.
Pros: Balances roominess and insulation, suitable for various sleeping styles.
Cons: May not be as efficient in extreme cold conditions.
Barrel-shaped sleeping bags provide a middle ground, catering to campers who want comfort without compromising too much on insulation.
Envelope Sleeping Bags:
Similar to rectangular bags but with a tapered bottom for more efficiency.
Pros: Offers a compromise between roominess and insulation.
Cons: May not be as thermally efficient as mummy bags.
Envelope sleeping bags strike a balance between space and warmth, making them a versatile choice for a range of camping conditions.
Choosing the right sleeping bag shape involves considering your camping style, preferences, and the expected weather conditions.
4. Weight and Packability
You should focus on two crucial aspects when picking a sleeping bag: weight and packability.
As an enthusiast who's explored diverse landscapes, I've learned that the key to a seamless outdoor experience lies in minimizing the load on your back.
So, you want a bag that won't weigh you down during those lengthy treks and can effortlessly squeeze into your backpack, leaving room for other essential gear.
For women, aiming for a sleeping bag under 3 pounds, and for men, under 2.5 pounds is a sweet spot[1]—striking the perfect balance between warmth and the freedom to roam.
It's not just about staying warm; you want a feather-light companion that won't hinder your explorations, fitting snugly into your backpack while leaving ample room for the adventures that lie ahead.
Read more: How To Attach A Sleeping Bag To A Backpack
5. Size and Fit
A well-fitting sleeping bag is essential for maximizing warmth, as they directly impact the quality of sleep during outdoor adventures.
A sleeping bag should feel like a cozy cocoon and cover your length and shoulder width, providing both warmth and freedom of movement.
Personally, I've found that mummy bags provide extra room around the shoulders and a pronounced taper to foot, enhancing insulation without compromising comfort.
It's like striking a balance between snugness and spaciousness – akin to finding that sweet spot between security and the freedom to shift during the night.
Remember, the right size and fit aren't just about physical dimensions; they're about ensuring your sleeping bag becomes a tailored haven for restorative sleep amidst nature's wonders.
Note: Most bags come in regular and long options, ensuring a comfortable fit for different body types.
6. Sleeping Bag Shell and Liner Materials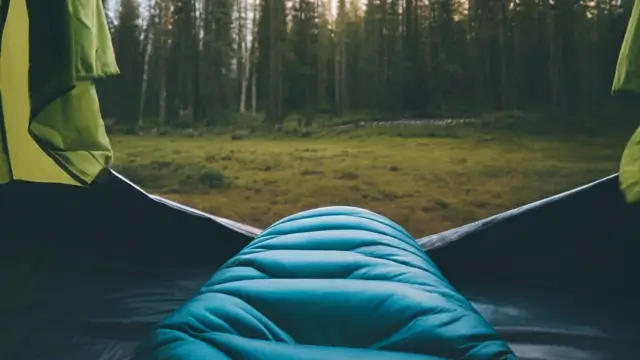 The outer shell and liner materials impact durability, water resistance, and comfort.
Choose a sleeping bag with a robust shell that is water-resistant and windproof, like the microfiber shells.
Regarding liner materials, most sleeping bag liners are made of silk, fleece, and cotton.
For the weight-conscious trekker, silk liners reign supreme, providing a feather-light option that adds a touch of warmth and cleanliness.
In situations where breathability and durability take precedence, you may choose the dependable cotton liners. Their ease of washing, quick drying, and wallet-friendly nature make them a robust choice.
Meanwhile, fleece liners, albeit heavier, step in when a substantial warmth boost is needed.
It's all about matching the liner to the adventure – silk for thru-hikes, cotton for versatile comfort, and fleece for those chilly nights when warmth takes center stage.
So, whether you are chasing lightweight trails, embracing budget-friendly durability, or nestling into warmth, there's a sleeping bag liner to complement every camping tale.
7. Additional Features
Look for features that enhance your camping experience. Some sleeping bags have draft collars, hood cinches, or zipper draft tubes to minimize heat loss.
Assess these features based on your camping preferences and the conditions you expect to face.
Read to learn about The Best Sleeping Bags For Desert Camping
8. Budget Considerations
While quality should be a priority, your budget is a crucial factor. Determine a realistic budget and explore options within that range.
Additionally, when making your purchasing decisions, consider checking prices in different online stores.
Prices can vary between retailers, and by comparing them, you may find the same or similar quality gear at a more affordable cost.
This extra step ensures that you not only prioritize quality but also make a cost-effective choice, allowing you to make the most of your camping budget.
9. User Reviews and Recommendations
Before making a final decision, read user reviews and seek recommendations from experienced campers.
Real-world experiences can provide valuable insights into the performance and durability of a sleeping bag.
Maintenance Tips
Finally, familiarize yourself with proper care and maintenance. Regularly clean and store your sleeping bag according to the manufacturer's instructions to ensure its longevity and performance.
Read also: How Long Do Sleeping Bags Last
How to Choose a Sleeping Bag: Final thoughts
Choosing the right sleeping bag is an investment in your camping comfort. By considering temperature ratings, insulation types, size and fit, and other crucial factors, you can make an informed decision that enhances your outdoor sleeping experience. Happy camping!
References: